On Friday June the 20th 2008, Mr. Martin Laflamme, a Canadian Embassy staff in charge of peace and security, delivered a lecture entitled "(Re-)Building states in unstable environments: the experience of Canadian civilians in Kandahar." Approximately 60 students and faculty participated in the seminar sponsored by APU's Institute of International Strategic Studies.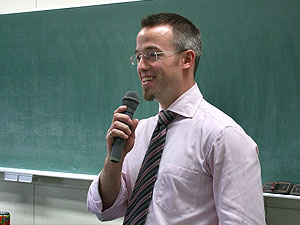 He showed that Canada is conducting international cooperation activities in Afghanistan in three areas: development, security and diplomacy. He also explained how civilian representatives, such as diplomats and aid officials, work with the Canadian military to achieve reconstruction objectives. He then pointed out that "representatives from the Afghan police and military forces are those officials that the average citizen is most likely to encounter on a day to day basis. Therefore, if we want to increase the people's trust in their government and their support for this same government, it is absolutely critical that police and military officials be well-trained and professional. This is why Canada and others are investing so much time and resources in this area."
Mr. Laflamme has a rich experience in the area of peace building, including work experience in Kandahar, Afghanistan, where he worked as a political advisor to the Canadian Commander in charge of all Canadian security operations. He also spent time in Kosovo with the Canadian Office and in Ukraine, as an electoral observer. Those students who participated in the seminar listened to his talk with great interest, and in the subsequent question and answer session Mr. Laflamme took the time to respond to various questions from them thoroughly.