For 2 days between on July the 13th and the 14th, an APU student theatrical group, KIZUNA put on their 4th performance of "Window for tomorrow" at the APU Millennium Hall. An audience of approximately 1000 enjoyed the musical.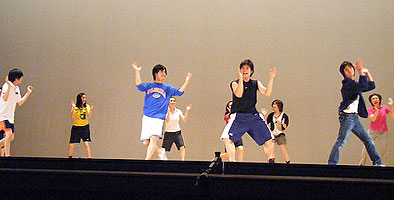 TASAKI Haruna (APM2, Japan) is a scenario writer and producer of the musical,"Window for tomorrow" The message throughout the play is that one lives at the present as hard as we can with friends. The play follows a basketball circle at a University. The members of the circle have deepened their relationships via getting over a lot of difficulties together. They started practicing the musical 2 month ago.
KIZUNA was organized in 2005. Approximately 100 students including 6 international students are active in the group. With the concept that they give the opportunity to enjoy the musical for free to local residents in both Oita and Beppu city, they manage to create original scripts and take on every role such as cast and crew by themselves.
Ms.Tasaki made this remarks after their performance, "I came across musicals and realized that they give us bravery and power when I was a high school student. I hope our activities become the first step towards a musical culture taking root in Oita." Representative of the theatrical group, TAKEUCHI JUN (APS2, Japan)commented, "I was very happy when I found the message in the questionnaire, saying that thank you very much for the energetic and cheerful musical. I am convinced that the audience deeply understood what we want to do. Though there are a lot of difficulties during the practice, I would like to continue the play with joy and smiles in order to appeal the charm."