From the 14th of June through to the 3rd of August APU students have been managing the Open Café GEMUSE (Which mean vegetables in German) in the Ekimae Koutou Onsen bath house situated in front of Beppu Station. The APU student's GEMUSE open café is now in its 4th year and is opened every year. The Koutou Onsen bath house is being managed with the intention of maintaining it as a place of cultural importance to Beppu City, and all the proceeds are donated to the bath house and are used to pay for its upkeep and maintenance.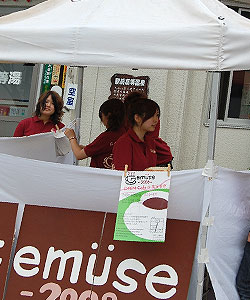 Open Café GEMUSE is run by students who take turns managing it. The atmosphere is one typical of APU - with a multinational feeling, foreign beer, tropical juice, "Hot Sandwiches" and the students' original menu on display.
Serving as the representative of Open Café GEMUSE Michihiro Kudou said "Our seniors wanted to do something worthwhile so, starting with the city clean-up and then moving on to the preservation of the dilapidated Ekimae Koutou Onsen bath house, the café is now in its reaching its 4th year. Our goal at GEMUSE is not only preservation – we also want it to be used as a place where students, Beppu citizens, and tourists can exchange information."
The Ekimae Koutou Onsen bath house was built during the Taisho Period and is even today used as a bath house and lodgings. The Taisho/Western style buildings architecture has a retro feel and Beppu locals and tourists are fond of the "face of Beppu Station Square."
Open Café GEMUSE trading hours,June 14th - August 3rd (Shut on rainy days)
Saturday: 11:00 – 20:00
Sunday: 11:00 – 19:00