Four APU Traditional Performing Arts circles have formed the Student Group "GEISOU" and have held a traditional performing arts performance in Indonesia from the 23rd (Sat) through to the 2nd (Tue) of September.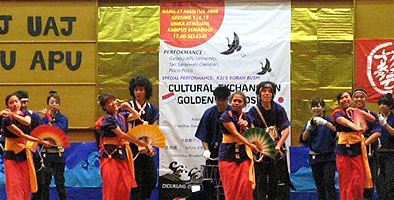 "GEISOU" is made up of the Japanese drum group "Raku", APU Eisa Dan 'Champuru', Arauma Chiyo and Mai "Raku". Their aim is to send traditional performing arts out to the world, stimulate a revival of the culture of performing arts, and therefore deepen mutual understanding which will lead towards world peace.
In March 2007 they also performed overseas in Taiwan.
The 4 performances were held at such places as the Universitas Katolik Indonesia Atma Jaya and Tarumanagara University.
The performers were able to demonstrate all of the practice which they had put in and really got the crowd going. Also, through their planed friendship exchange with the local students, the local students were seen dancing with the performers and holding the drum sticks.
The "GEISOU" representative Regina Jessica Widjanarko (APM3 Indonesia) reported on the success of the performance "The time that we spent in Indonesia has been an unforgettable experience. We performed 4 times and the reaction we got from the crowd was overwhelming as we received a standing ovation at every performance. For us, the friendships we built have made our journey even more meaningful as we created a bridge of friendship between Japan and Indonesia. I hope that in the future our juniors will continue our dream".
APU currently has 166 international students from Indonesia and since its opening the University has been working towards mutual understanding via, for example, Indonesian language classes.
To mark the 50th anniversary of the establishment of diplomatic relations between Indonesia and Japan this year, which is also the "Japan-Indonesia Friendship Year", commemorative songs and official events are being held with the aim to strengthen the relationship between the two countries. The youth of the two countries are planning to work together to recognize mutual cultural and historical differences via exchange through traditional culture.