On Friday September 5, 24 members of the Democratic Republic of Timor-Leste Ministry of Agriculture and Fisheries visited APU as part of their mission to learn about the "One Village One Product" movement.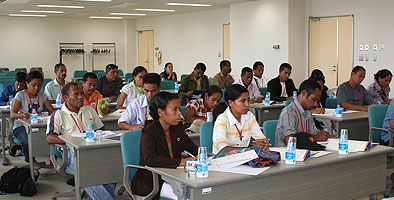 President Monte CASSIM and Director-Secretariat ASONUMA Kazunari greeted the group and gave an explanation of APU's bilingual educational system and the scholarship system. Afterwards, there was a lively exchange of questions and the trainees showed an interest in the education program and system.
At the end, Assistant from the Agribusiness Development Agribusiness Ministry of Agriculture and Fisheries Mr. Albino RIBEIRO gave the following greeting and presented a "Tais" which is a Timor-Leste handicraft. "Thank you for this valuable talk. I hope to refer to this talk when I return to my country. I expect that in the future we can cooperate to build a friendly relationship between APU and our home country".
Before this visit, at the JICA ASEAN One Village One Product Study held in June, 3 civil servants from Timor-Leste were included as trainees and over approximately one month observations and lectures on the methods of regional development were held. Furthermore, on Wednesday June 25th,The Democratic Republic of Timor-Leste Ambassador to Japan His Excellency Mr. Domingos Sarmento ALVES visited APU to observe these trainees. It is expected that a further friendly relationship will develop.