Between the 31st of August and the 9th of September the APU volunteer circle "PRENGO" conducted volunteer activities in Thailand for the 10th time. This time Ritsumeikan Elementary School Vice President, Professor Hideo KAGEYAMA, a famous promoter of the "Hyaku Masu Keisan" system (Hundred Square Calculations) also attended the activities and offered lectures for all of the elementary students.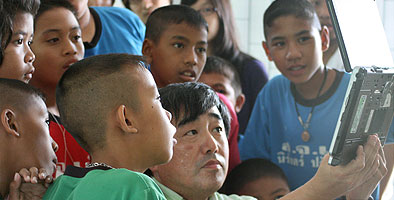 Every year in February and September, PRENGO members visit Huai Mahad School in Rayong Prefecture, Thailand, to engage in regional volunteer activities including economic, health and educational support. For economic support, the students try to revitalize the area through manufacturing and selling Thailand pants. They model their activities on the One Village One Product movement, which is originally from Oita Prefecture. For health support, they raised awareness of diseases such as HIV, which people can prevent with enough knowledge, using hand made illustrated picture cards. For educational support, they held classes centered on "Hyaku Masu Keisan" system.
Preceding this visit, PRENGO representative MIZOKAWA Shiro (APS3, Japan) gave these remarks "Since the inception of the volunteer circle in April 2003, we are continuing our aid activities under the philosophy of 'Improving the educational environment via the creation of community based educational opportunities'. This time we engaged in improving educational ability activities accompanied by Professor KAGEYAMA. We hope that our activities will open up the door to the future for Thailand's children and will benefit the future of the Asia Pacific area".