On Friday 19th September, APU welcomed 584 new students at the 2008 Fall Entrance Ceremony, which took place at APU Millennium Hall.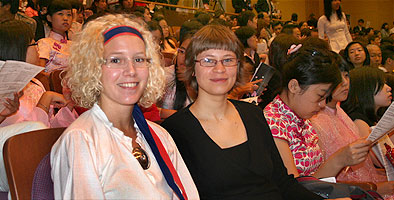 The 404 undergraduates (25 domestic students, 379 international students), 108 graduates (3 domestic students, 105 international students) and 72 exchange students (9 domestic, 63 international) hail from over 54 countries and regions worldwide. New students from Republic of Angola, Oriental Republic of Uruguay, Republic of Guyana, Republic of Guatemala, Kingdom of Belgium represent their respective countries for the first time.

The ceremony commenced with a welcoming address from APU President, Mr. Monte CASSIM who said, "Please draw from the strengths of this multicultural campus and its richness of diverse peoples and cultures. Making an effort to understand and overcome customs or practices that might initially seem alien will be part of your daily life at APU. Acquire not only knowledge, but also the skills of observation, analysis and communication both within and outside our classrooms. "




This was later followed by a welcome speech on behalf of current APU students given by Mr.Kamakari Tatsuya (APS4, Japan). Then, on behalf of the new undergraduate students, Mr. SCHWARZ GIRIBALDI Marcelo (GSA Uruguay) spoke of their hopes and aspirations, "I am eager to add my grain of sand to this beach of cultural diversity that APU offers. I am a native of Uruguay, however my home now is Beppu and APU. We must embrace diversity simply because it is the key to success in a globalized world. Therefore, we must learn not only from our curriculum but also from students' and professors' experiences. Now is the time to open our minds and build strong relationships that can last a lifetime."

As a finale to the Entrance Ceremony, current students held a few short performances in order to introduce the various Circles and Societies at APU Millennium Hall.
They enjoyed the enthusiastic performances, which sent a warm welcome to the new APU students about to embark on their new campus life.