On Wednesday October 29, 2008, the 14th Top Executive Lecture was held at the Millennium Hall. This year welcomed Lawson, Inc. President & CEO, Takeshi NIINAMI. Mr. NIINAMI presented a speech entitled "LAWSON Challenge".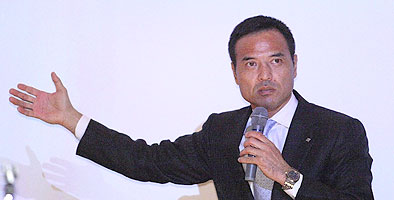 President CASSIM gave the opening address: "Through talking with President NIINAMI I was able to appreciate his creative strength and breadth of vision able to lead anything towards success. Lets all enjoy President NIINAMI's energetic speech".
Mr. NIINAMI first spoke about the development of the convenience store industry such as the usefulness of convenience stores and the franchise system, and the increase in sales and product development ability that can be gained thorough IT management. Mr. NIINAMI spoke of the various original undertakings and new business ventures of Lawson Inc, and about the business structure they are aiming for: "I want to nurture a corporate culture highly receptive to different things, promote the regular employment of foreign workers to expand the company's breadth of vision, and make a new corporate culture. It's easy to do nothing - not to take on any new challenges - but I want us to be a business which values the challenge, even if it fails".
The students asked enthusiastic questions such as "What are you doing to promote the regular employment of foreign workers?" "How do you keep the balance of developing new businesses while maintaining the Lawson brand ?" and Mr. NIINAMI answered each question in a succinct and easily understood way. The lecture ended with a rousing applause from the approximately 700 APU students who attended.