On Monday October 27, 2008, the NIKKEI INC. Seminar was held for 3rd year students and welcomed NIKKEI INC. Executive Officer and General Manager KOJIMA Takeshi and NONAKA Hiroyuki, also of NIKKEI INC. as lecturers.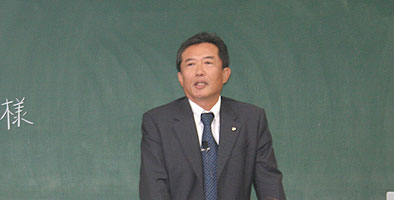 Mr. KOJIMA's lecture entitled "The Strength of the Japanese Economy and its Future" he spoke about the Japanese economy based on his 35 years working for the NIKKEI Weekly – the largest newspaper in the world specializing in economics. Mr. KOJIMA said that the strength of the Japanese economy lies in 1) manufacturing ability, 2) Goods and services development power and 3) Teamwork and abundant human resources. "The Japanese economy has developed a materials-parts-machine tools industrial pyramid configuration which allows it to speedily and without waste produce better goods at the necessary time and in a necessary volume. This is what I mean by 'manufacturing ability'".
Following Mr. KOJIMA, Mr. NONAKA gave a lecture entitled "The way read the Nikkei Weekly to succeed in job hunting". He then gave the following 4 important points to the students looking for a job in a society that is increasingly not looking exclusively at one's academic ability and academic history: 1) industry and business research, 2) objective self-analysis, 3) business assessment and 4) resolute self-responsibility. He also talked about the economic knowledge necessary when studying industry and business.
The seminar was attended by many students and they showed an increased interest in the Nikkei Weekly in spite of the so-called drift of young people away from newspapers.