On Wednesday November 5, 2008, the SAS logo was chosen and the competition winner Awards Ceremony was held.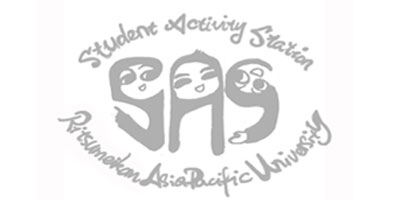 The Student Activity Station (SAS), which was established to support APU students in their extra curricular activities, was established in June this year. It is currently being run by 10 student staff members under the guidance of APU staff, and is planning and carrying out local exchange and cultural introduction programs. The logo competition was held as a way to get the students familiar with the SAS.
The Highest Award winner and 2 Excellence Award winners were presented with their certificate and a memento by President CASSIM. The winner of the Highest Award FENG Chencen (APS2, China) spoke of his happiness at receiving the award "As I designed my winning logo based on my impressions of the SAS, it expresses an atmosphere of students having enjoyable exchanges. I will be happy if my logo leads to the SAS being well known by more people."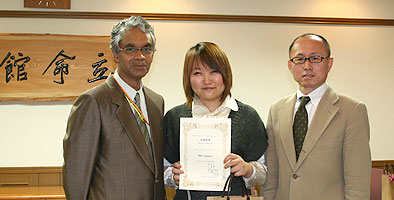 The winning logo will be used on the SAS newsletter and original goods, and will be used to make the SAS well known around the campus.
Winner of the SAS Logo Design Competition Awards
1st Prize FENG Chencen(APS2,China)
2nd Prize ENRIQUEZ Maria Asuncion D. R.(GSAM1,Philippines)
KOBAYASHI Takamichi (APS4,Japan)