On Wednesday November 5, 2008, The 2008 Autumn Award and Scholarship Conferral Ceremony was held at the APU Convention Hall.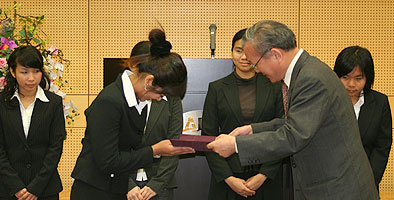 The APU scholarship system aims to encourage and provide assistance to students who have achieved outstanding results in academic and extracurricular activities.
During the ceremony, the scholarship recipients were called up one at a time, starting with the ANDO Momofuku Scholarship recipients, and their certificates were presented to student representatives by APU President CASSIM, the Dean of the College of Asia Pacific Studies and the Deputy Dean of the College of Asia Pacific Management.
The ANDO Momofuku Scholarship recipient VO Thi Mai Huong (APS3, Vietnam) expressed her thanks "I have studied at APU keeping in mind how to lead an impressive life and what kind of effort I need to put in to get there. Also, I feel very honored to receive this scholarship. In the future I hope to return to my country and become a university lecturer."
Recipient of the Academic Merit Scholarship, PUNTHUCHAT Siripun (APS3,Thailand) said "I am very honored to receive this scholarship. Life is not all good things; one experiences tough times and failure. But these become the seeds of the future. One grows every time one experiences new things. I hope to gain more experiences and become a person able to make a contribution to society in the future."ASANO Yuu (APM4, JAPAN) spoke of his happiness and goals for the future "I feel that what I have studied positively and actively towards my goal has led me to this honorable result. By studying at the multicultural campus of APU, and knowing the love international students have for their mother countries, I now want to make a contribution to my own home of Nara Prefecture. In the future I hope be a person who represents Nara Prefecture."
At the conclusion of the ceremony the students took commemorative photos of each other and shared their happiness at receiving their scholarship.
The following scholarships were presented
1ANDO Momofuku Scholarship -4
2Academic Merit Scholarship -10 (Academic Merit Award -21)