On Wednesday November 12, 2008, "the 2nd APU Health Day – Health and Clean" was held at the APU cafeteria.
This event is one of the initiatives made possible through the cooperation of the APU Health Day Executive Committee, the APU Health Clinic, APU Co-op and Creotech which is working towards the non-smoking campus that comes into effect in 2013 and was held aiming to provide non-smoking support, improve smoking etiquette and to raise people's health awareness across the campus.
The site was split into two corners: the Quitting Smoking Corner and the Diet Consultation Corner. At the Quitting Smoking Corner People were able to measure their Carbon Monoxide concentration using a Smokerlyzer, were provided with free nicotine patches and were encouraged to quit smoking. At the Diet Consultation Corner people were able to measure their bone density, body-fat and muscle mass, have a skin consultation and check their eye sight and dynamic vision. A registered dietitian was also present and gave free dietary consultations. Many students came along to both corners for consultations and it looked as though there were many students and faculty staff who showed an increased interest in their health and wanted to quit smoking.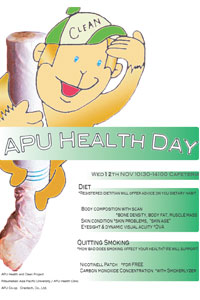 SHIMADA Hiroko's (APS2, Japan) poster design - winner of the President's Prize in the Health & Clean Idea Competition - was used on the Health Day poster and played its role in getting the event widely known.
The APU Health Clinic continues to hold consultations for those who wish to quit smoking on weekdays 10:00 - 16:30 and provides free nicotine patches to those who are eligible. Those who are interested please inquire.
Please click
here
for information on the Health & Clean Commendation Ceremony