On Wednesday November 12, 2008, a lecture was held for "Career Development Program for Foreign Students from Asia" students, and welcomed Hitachi Plant Technologies, Ltd. General Manager of Personal Development & Training Center Human Resources and Management & Development Division Mr. Fumitaka SODA and Hitachi Plant Technologies, Ltd. China Business & Administration Group Mr. Yineng Gu –a graduate of APU(Grad. spring'04, China).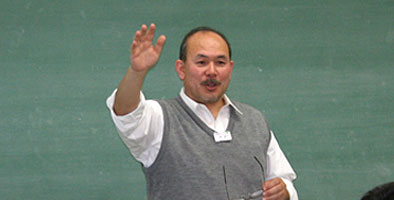 The "Career Development Program for Foreign Students from Asia" is a METI and MEXT administered program. There are currently 34 students studying as part of the "Global Business Leaders Development Program" being run at APU to become the leaders of the future. There are also 10 students from APU participating in the "Kyushu-Asia International Students with Practical Skills Development Project" run by the Aso Juku Academy.
During his lectures entitled "Working goals and Career design" and "The human resources sought after by business" Mr. SODA said "Don't look for your goals in terms of yourself now, instead look for your goals as yourself in the future", "What do you want to become (your dream)", "Work to cross the threshold to making your dream (goal) a reality", "It is important to take advantage of accidental happenings and use them in your career".
Furthermore, "In society and the marketplace of today where sudden changes happen on a global scale, it is important to be quick off the mark and be sensitive to such changes". In order to do this he said that it is important to "not dislike change (enjoy it) have an awareness and overcome them". "If you don't feel any changes around you, you should have the planning ability and courage to cause change (in other words, a creative destruction ability)". "Furthermore, to attain a creative destruction ability it is important to make your way of thinking and doing things different." Mr. SODA spoke passionately based on his experiences.
Mr. Yineng Gu introduced his career to date, spoke about the idiosyncrasies of Japanese business from the point of view of a foreigner and also gave the students some concrete advice based on his experiences.
The students who attended listened intently to the lecture the two gentlemen gave and it proved to be a great opportunity to deepen their understanding of Japanese business.
Please click
here
for information on the GBLP and "Kyushu-Asia International Students with Practical Skills Development Project" opening ceremonies:
Please click
here
for more information about the Global Business Leaders Development Program: