Times Higher Education Japan University Rankings 2020: APU Ranked Top Private University in Western Japan for Third Consecutive Year
The Japan University Rankings 2020, which began in 2017 and are published by British higher education journal The Times Higher Education (THE), were released on March 24.
Of the 278 schools surveyed, APU was the highest ranked private university in western Japan for the third year in a row and placed in the top five among the nation's private universities. Overall, APU ranked 21st nationwide (up from 27th last year).
The ranking consists of four categories: Resources, Engagement, Outcomes, and Environment. APU ranked fourth in Japan (2019: 5th place) in Engagement, which is based on a student survey and a reputation survey with high school teachers, and second in Environment (2019: 3rd place). Meanwhile, APU's rank in the Outcomes category, which includes an appraisal by HR departments of several companies, jumped from 77th place last year to 44th, which reveals the strong reputation our graduates have earned among their employers.
Times Higher Education Japan University Rankings 2020 (Links to an external site)
https://www.timeshighereducation.com/rankings/japan-university/2020#!/page/0/length/25/sort_by/rank/sort_order/asc/cols/stats
While most world rankings focus on research capacity, the THE Japan University Rankings are designed to measure teaching capacity by placing more emphasis on student growth and learning.
APU Receives Full Internationalization Marks in QS World University Rankings Asia
In October, the UK-based Quacquarelli Symonds (QS) published its yearly ranking of universities in the Asia region.
The Asia edition of the QS World University Rankings listed more than 400 universities. In the categories of International Faculty (percentage of faculty from outside the country) and International Students (ratio of international to domestic students), APU received a full 100 points out of 100 possible.
APU was one of only eight institutions in the region to receive a perfect score in these two categories. The others include: Nanyang Technological University (Singapore), The University of Hong Kong, City University of Hong Kong, The Hong Kong University of Science and Technology, Macau University of Science and Technology, University of Macau, and Al-Madinah International University (Malaysia).
QS University Rankings evaluates universities based on academic reputation, employer reputation, faculty/student ratio, citations per paper, papers per faculty, staff with a PhD, proportion of international faculty, proportion of international students, proportion of inbound exchange students, and proportion of outbound exchange students.
This year, APU was the only Japanese university to receive a perfect score in the International Faculty and International Students categories in the Asia rankings. According to QS, APU ranks within the top 2.5% of universities in Asia overall.
For more information, you can visit the QS World University Rankings Asia page here:
https://www.topuniversities.com/university-rankings/asian-university-rankings/2018
Graduate School of Management Named in QS Asia Top 30 MBA Ranking
In November, UK-based Quacquarelli Symonds (QS) released its annual Global MBA Rankings for 2018. APU appears in the top 30 of the list of MBA programs in Asia, Australia, and New Zealand. Only three other Japanese universities placed in the top 30: Waseda Business School, Doshisha Business School, and Nagoya University of Commerce and Business.
Taught entirely in English, APU's Master of Business Administration program prepares students for a rapidly globalizing business world, focusing on Japanese style management in a global context. MBA students at APU come from diverse backgrounds, contributing to the university's multicultural environment.
In 2016, the Graduate School of Management received accreditation from The Association to Advance Collegiate Schools of Business (AACSB), joining a global body of high quality institutions that adhere to a strict international standard of business education. Students in the Graduate School of Management (and undergraduate students in the College of International Management) also have the opportunity to join Beta Gamma Sigma, the honors society for top students at AACSB-accredited schools.
For more details about the QS World University Rankings: Global MBA Rankings 2018: Asia, Australia & New Zealand, click here:
https://www.topmba.com/mba-rankings/asia-australia-nz/2018
MBA Program Enters Eduniversal Best Masters Ranking's Top 20
Paris-based Eduniversal placed the Graduate School of Management's MBA in the top 20 of International Management programs in the region of Far East Asia for 2018.
For more details, click the link below.
http://www.best-masters.com/ranking-master-international-management-in-far-eastern-asia.html?filtre-pays=Japan
(link to external site)
2020 University Rankings (Asahi Shimbun Publications)
Asahi Shimbun Publications has released its AERA Shingaku MOOK (Weekly Magazine Asahi University Guide Magazine Book) 2020 University Rankings, which evaluate 777 of Japan's universities from a variety of different perspectives. Below are the main categories in which APU was highly evaluated.
Total number of undergraduate international students1
| | University | Students |
| --- | --- | --- |
| 1 | Ritsumeikan Asia Pacific University | 2,721 |
| 2 | Waseda University | 2,147 |
| 3 | Ritsumeikan University | 1,281 |
| 4 | Toyo University | 1,075 |
| 5 | Nihon University | 960 |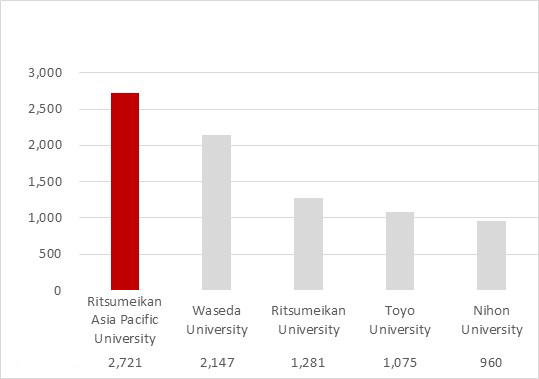 International students as a percent of total undergraduate population1,2
| | University | % |
| --- | --- | --- |
| 1 | Ritsumeikan Asia Pacific University | 48.3 |
| 2 | Tokyo University and Graduate School of Social Welfare | 20.9 |
| 3 | Osaka University of Economics and Law | 16.9 |
| 4 | Bunka Gakuen University | 15.6 |
| 5 | University of Marketing and Distribution Sciences | 13.9 |
International faculty members as a percentage of total faculty population
(Among universities with 3,000 students or more)
| | University | % |
| --- | --- | --- |
| 1 | Ritsumeikan Asia Pacific University | 48.8 |
| 2 | Kanda University of International Studies | 46.3 |
| 3 | International Christian University | 38.4 |
| 4 | Kansai Gaidai University | 38.3 |
| 5 | Tokyo International University | 30.9 |
Notes:
1. Regular full-time international students.
Does not include auditing students, research students, or exchange students.
2. For universities of 2,500 students or more.
(Published with the permission of The Asahi Shimbun Company 19-3028. Reproduction or republication without permission from The Asahi Shimbun Company is prohibited.)
International Co-authorship Publication Rate
Connections with overseas research centers or institutions can lead to more publications co-authored through international collaboration. The international co-authorship rate here is expressed as a percentage of total publications for the university in question.
Universities by percent of publications authored internationally
University
Internationally
Co-authored
Publications
Total
Publications
1
Akita International University
50.5%
109
2
University of Aizu
49.2%
1334
3
Ritsumeikan Asia Pacific University
46.7%
285
4
Seinan Gakuin University
39.7%
58
5
Rikkyo University
39.5%
1169
Source: Nikkei Trendy September 2019, International Co-authorship Paper Rate (according to Elsevier Japan). International paper co-authorship rate vs. total number of papers from 2014 to 2018.