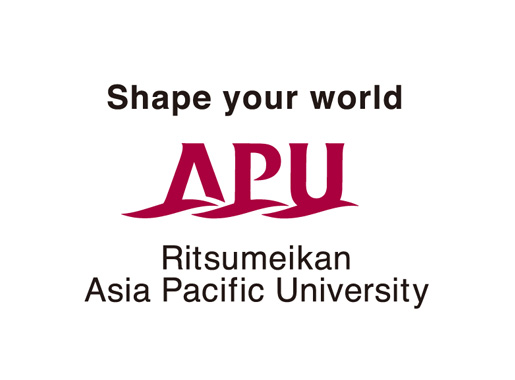 The Symbol Mark
The motif representing three waves symbolizes the dynamism of the Asia-Pacific region in the 21st century, and the vibrancy and youth of our generation from across the globe working in solidarity to spread new ideas around the world. The crimson color used in the motif is the university's traditional color and conveys the Ritsumeikan spirit.
Tagline - Shape your world: meaning and concept
APU students come from all over Japan and around the world. The tagline aims to convey an image of APU students studying in this international environment, shaping their world and building their future. In addition to emphasizing the international flavor of APU, the tagline also aims to convey an image of each individual student and stakeholder working to develop and open up a future for themselves.
"Shape" includes a nuance of "Creation" – a concept often referred to in the APU Opening Declaration. "World", as it is used in the tagline, has a range of meanings. It refers not only to the multicultural and multilingual environment at APU, but also to the world of international education and research. In a broader sense, it also refers to the different worlds of our stakeholders, their areas of expertise, outlook, ideas and environment. And finally, "your" refers to the central player: you.
Use of the Symbol Mark, Logo and Tagline
When using the symbol mark, logo or tagline, please contact us.