From Saturday, March 28 until Monday, March 30, 2009, the APU Volunteer circle Habitat and Ritsumeikan University International NGO Circle RitsBLOH held their 3rd joint exchange camp.
Habitat APU and RitsBLOH are circles working together as a student division of Habitat For Humanity International*

The exchange camp was held as an opportunity to share information about their work with the aim of further developing their activities. Five members of APU Habitat and 23 members of RitsBLOH participated in the camp which was held this time at the Biwako Youth House in Shiga Prefecture.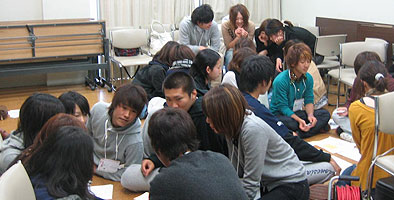 During the camp they each gave presentations about their groups activities and APU Habitat members gave a presentation following the theme of their "Tea House" held last year at the Pacific Café which involved a concert and report on their activities.

OGATA Minami (APS2, Japan), who acted as representative of this exchange camp, spoke of her impressions of the camp, future Habitat activities at APU and of her aspirations for the future.

I want to learn from the strengths of RitsBLOH and create an environment where all of our members can have their opinion and make it heard to everyone. I want to make use of what we gained at this camp in our future activities.

Habitat APU was set up in 2006 as a student branch of Habitat For Humanity International and currently has 40 members. To date, they have participated in construction projects in the Philippines and Thailand and have held public sessions and photo exhibitions on campus.
Link to the Habitat APU web-site: http://habitatapu.web.fc2.com/

In 2009, in addition to their main project –overseas construction volunteer activities –they translated picture books into the local language and presented them to local children as part of their "Picture Book Project". They also are planning for study groups which look at the problems of global poverty and homelessness in Japan.

*Habitat For Humanity International was set up in 1976 under the philosophy of creating "A world where everyone has a decent place to live" with the aim of ridding the world of slums and homeless people. To date, they have constructed 200,000 houses and supported over 1,000,000 people.

Link to the Habitat For Humanity International web-site: http://www.habitat.org/ap/(English)
Link to the Habitat for Humanity Japan
http://www.habitatjp.org/index.php