On Wednesday, July 29, 2009, Ritsumeikan University old boy KORENAGA Shuji who took up his post as Mayor of Usa City in March, and a group of USA City officials, and met with President Monte CASSIM, Vice-President WAKABAYASHI Hiroo.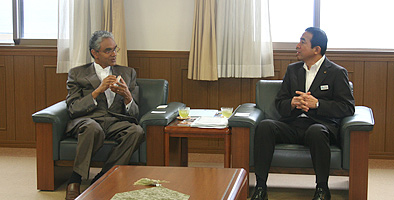 President CASSIM started off the talk with a few words of thanks, "thank you for all your help with the AJIMU winery and our research into the changes in the flavor of grapes due to global warming". They then exchanged opinions a range of issues such as regional municipalities, the importance of nature as a tourism resource, issues in education and the possibility of future exchange between APU and Usa City.

President CASSIM said, "APU has students from a range of countries and regions and knowing about the culture and customs of our students leads to an understanding of different cultures", to which Mayor KORENAGA spoke of his hopes for exchange, "Exchange with international students, each with their own set of values, will be a motivation for our citizens to rediscover the good aspects of the region they themselves are living in".

Furthermore, Mayor KORENAGA who was involved with prefectural government as a officer at the Prefecture Office at the time of the opening of APU, spoke of his impressions of the plan to open APU made between the Ritsumeikan University and Oita Prefecture, "at the time opinion was divided on the opening of APU with a student body made up equally of domestic and international students. But, having seen the globalization of Japan over the last 10 years, I believe that it was a decisive decision with great foresight."

With a population of approximately 62,000, Usa City was formed in March 2005 with the amalgamation of Usa City, Ajimu City and Innai Town. Situated in northern Oita Prefecture, the City is well loved by people both within and outside the Prefecture for its historical heritage sites such as USA Shrine, Tozai Temple, Heishi stone monument and green tourism which makes use of its abundant nature full of variety from the coast, the mountains and plains.