On Saturday, October 17th the men's lacrosse team will face Seinan Gakuin University in Fukuoka to grapple for the Kyushu Student Lacrosse League title.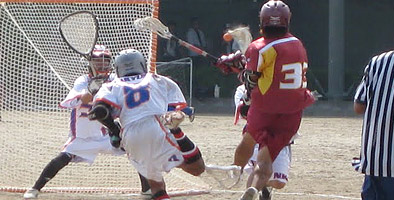 The APU men's lacrosse team is an official student organization that was founded in 2003. It currently counts 45 members among its ranks. After the Kyushu Student Lacrosse League games held in August and September, APU advanced to the Final 3* for the first time since joining the league 5 years ago.

Team Captain TANAKA Kimihiro (APM4, Japan) remarked: "The match with Seinan Gakuin is a very important game for achieving our goal of winning the Kyushu league title this year. The entire team has its eyes set on victory, so please come out and cheer us on."

The team needs your support. Why not get out there and root for them?

Date/Time: October 17 (Sat) 14:30
Venue: Hakata no Mori Track and Field Stadium, Annex Ground
Vs. Seinan Gakuin University

* Final 3
A playoff of the top 3 teams in the Kyushu Student Lacrosse League. The winner earns the right to advance to the national championship qualifier.