On Friday 17 June the 6th APU Speech Contest (organised by the AP Language Department) was held at the APU Millennium Hall as part of another successful Language Week.
APU is home to a large number of students actively pursuing their studies in the Asian Pacific languages (AP Languages) of Chinese, Korean, Spanish, Vietnamese, Thai, and Malay/Indonesian. The APU Speech Contest is held annually to offer the students an opportunity to put their language abilities to the test. For the 6th APU Speech Contest the added element of further promoting interaction with the local community was a notable feature. Deputy Manager of Chugoku Toho Oita Airport Mr. SHIMIZU Toshiyuki was included on the panel of judges which consisted of faculty staff from every AP Language department.
This year's theme was: "What AP Language Learning Can Achieve". A total of 18 students (3 students for each language) who had passed the preliminary round took to the stage to deliver a 5 minute speech that required them to muster all their learning of the history and culture for the language they are studying. Students gave a fresh breath of air to the standard setting of a speech contest by donning the national dress of their target country for their speech.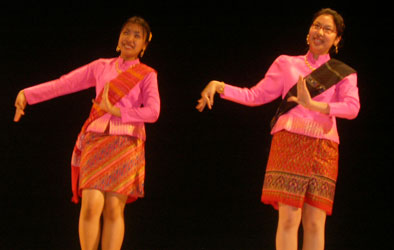 Another added feature not witnessed in previous years was the incorporation of performances from each country that took part in Language Week. After each speech finished entertainment in the form of ethnic dances and fashion shows were provided for the enjoyment of both students and guests from the local community alike. Thanks to the approximately 300 people who attended the 6th APU Speech Contest was a great success.
The following students received awards for their speech.
Gold Award: MURAKUMO Kazumi (APM 4th year)
Speech title: Taking the First Step in this World (AP Language: Malay/Indonesian)
Silver Award: YAN Soo Young (APS 2nd year)
Speech title: Love: A Powerful Incentive for Learning (AP Language: Spanish)
Bronze Award: TAKAO Kayo (APU 2nd year)
Speech title: Treasuring Every Encounter (AP Language: Spanish)