講演・シンポジウム|来学者
Jun 8, 2010

On Tuesday, May 25, 2010, Dr. Medhi KRONGKAEW, Commissioner of the National Anti-Corruption Commission (NACC) of Thailand, delivered a Guest Lecture entitled "Corruption and the Causes of Current Political Troubles in Thailand". Facilitated by APS Professor Supachit MANOPIMOKE, this lecture is the first installment of the AY2010 GSA Guest Lecture Series.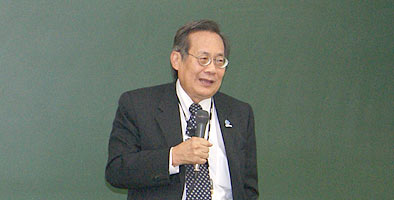 After a career including a post as Professor at the National Institute of Development (NIDA) and Dean of the Faculty of Economics at Thammasat University, Thailand, Dr. KRONGKAEW took up the post on the National Anti-Corruption Commission in 2006. Since then, he has been dealing with a variety of sensitive cases related to corruption, the most intricate of all being the cases charged against former Prime-Minister Thaksin and his associates.

Based on his vast experience, Dr. KRONGKAEW delivered a lecture that established the links between the investigations of NACC and the current political turmoil in Thailand. Dr. KRONGKAEW spoke of his views on finding a solution to Thailand's seemingly intractable problems, "Problems can be solved in many ways, but we have to be objective when we look for solutions." He pointed out the inequality problem as a cause for the ongoing crisis and recommended politicians to place the word "sacrifice" deep inside their minds as they try to overcome the present political situation.

After his truly intriguing 45 minute lecture, Dr. KRONGKAEW answered several questions raised by the students in the Q&A session. Speaking of his impressions of the lecture, Salam Abdus (APM2, Bangladesh) responded, "It was a very informative and encouraging lecture and I am glad to have got the chance to see the real picture of how corruption has affected the functioning of the entire political system in Thailand".

The GSA Guest lectures are organized by APU faculty to help promote an understanding of the challenging issues facing different parts of the globe.
Reporter, Student Press Assistant (SPA): Joshi Ratala Dinesh Prasad (APS3, Nepal)