From Monday, April 26, 2010, the Director-General and officials of the Afghanistan Ministry of Rural Rehabilitation and Development participated in a JICA commissioned training program at APU. Running until Wednesday, June 28, the program was held under the title of "Participatory local social development in rural areas".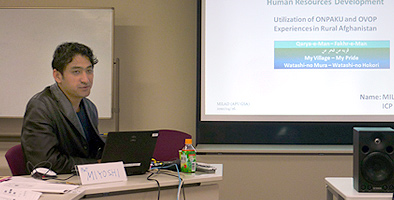 This training session was held as part of a regional development support project aiming to restore areas of Afghanistan ravaged by over twenty years of civil war.

In addition to a lecture by GSA Professor MIYOSHI Koichi on Community Capacity Development*, the group also experienced the Hatto Onpaku project**, visited Oyama-Machi (a model region for the One Village, One Product movement), and took part in discussions and an inspection tour of the Oyama-Machi Agriculture Cooperative and "Hibiki-no-Sato". The group was accompanied by two students from Afghanistan studying in the APU Graduate School on a JICA long-term training program, MILAD Homayoon (GSAM) and Farid Ahmad F. R. (GSAM) who acted as facilitators and provided their support to the group.

Looking back on the training program, one of the group members spoke of their aspirations for the reconstruction of Afghanistan, "we should try not to simply be a receiver of foreign aid, but instead we need to make the most of the resources and people we have in our local communities. My goal is to get involved in regional development initiatives that promote more productive communities".

*Community Capacity Development
This process involves the improvement of local community skills to deal with regional issues at the individual, organizational and social level.

**Hatto Onpaku
An abbreviation of "Beppu Hatto Hot Spring Expo," Onpaku is a community-level urban development project held since 2001 by Beppu City residents and is engaged in regional development centering on hot-springs.