On Tuesday, June 9, 2010, the "Spring 2010 Fashion & Culture Show – It's my way!" was held at the APU Millennium Hall. This opening event marked the start of this semester's Multicultural Weeks.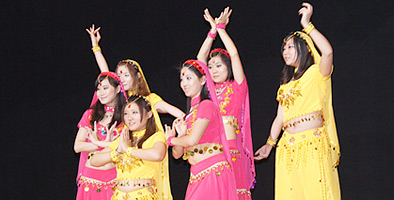 This, the second fashion show for 2010, was made possible through the efforts of the Multicultural Week Advisory Team – a student volunteer group that provides managerial support for Multicultural Weeks. The Advisory Team was joined by members of the technical sound and lighting support team "Switch", planning committee members involved in last year's Taiwan Culture Multicultural Week, members of the music event group "Beppu Music Fes" and the "Flexible Ameba Agency" who all provided their assistance with event planning and management.

In addition to the fashion show featuring both modern and traditional fashion from fifteen different countries and regions, this year's show offered the crowds a fusion of fashion and culture including martial arts displays and traditional dances by student circles representing the countries and regions participating in Multicultural Weeks.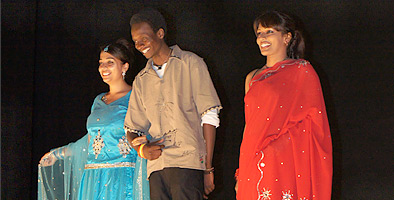 The stage came to life with colourful displays of traditional costumes from China, India, Malawi, Tanzania, Cameroon, Indonesia, Japan and many more. The APU Japanese festival-style dance troupe "Yosshakoi" and APU traditional Korean Samulunori music team "Shinmyoung" also impressed the audience with their powerful stage performances. Additional student performances by countries and regions taking part in the June-July Multicultural Weeks gave the crowds a vivid reminder of this year's Grand Shows including an Indonesian "Zapin" dance performance and a Vietnamese martial arts display.

Students dressed-up in support of countries at the FIFA World Cup announced the beginning of this year's Multicultural Weeks before bringing the show to an end. Multicultural Weeks, a regular feature on the APU event calendar, are currently underway. Let's look forward to more exciting Multicultural Weeks in the spirit of the soccer world cup!
Reporter, Student Press Assistant (SPA): ARAKI Yukari (APS2,Japan)