"Multicultural Weeks" are being held again this year on the APU campus. Held over a month, this event will put the spotlight on the 98 countries & regions represented on the APU campus and introduce their different language and cultures. The 4th installment, "Indonesian Week", is now underway and will run until Friday, July 2.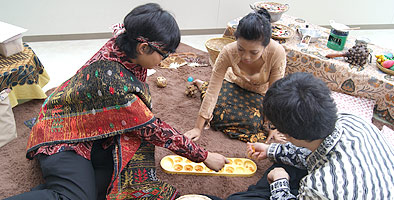 Entitled "Colourful Indonesia", the Indonesian Week Grand Performance will treat the crowd to traditional dances and performances from Jakarta, Java and Sumatra that will introduce the centuries-old Indonesian diversity of language and culture. An array of Indonesian cooking will also be available at the APU Cafeteria.

We hope to see you there!

Promotional DVD is here.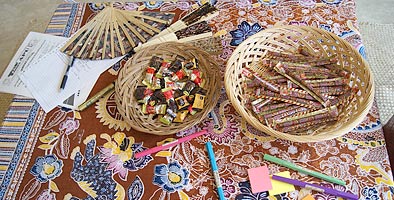 Schedule for "Indonesian Week"


Monday, June 28-Friday, July 2. 11:00-15:00 @ APU Cafeteria
Traditional costumes and countryside equipment & games display

Monday, June 28. 12:10-12:25 @ in front of APU fountain
Marching band parade *to be cancelled in the event of rain

Tuesday, June 29. 18:30-20:15 @ Cafeteria Special Stage
Traditional dance performance, fashion show

Wednesday, June 30. 11:00-15:00 @ APHouse 2, Basketball Court
Indonesian Sports Festival *Not open to the public

Thursday, July 1. 12:10-12:25 @ in front of APU fountain
"Ondel" (giant figurine) Parade *to be cancelled in the event of rain
(Traditional Jakarta parade featuring giant "Ondel ・Ondel" figurines)

Friday, July 2. 18:30-20:30 (doors open: 18:00) @ Millennium Hall
Indonesian Week Grand Show

*The participating countries for the Spring 2010 Multicultural Weeks are as follows:
Monday, June 7 Friday, June 11: Chinese Week (finished)
Monday, June 14 Friday, June 18: Vietnam Week(finished)
Monday, June 21 Friday, June 25: Korean Week(finished)
Monday, June 28 Friday, July 2: Indonesian Week
Monday, July 5 Friday, July 9: Myanmar Week
Monday, July 12 Friday, July 16: Thai Week