On Saturday, June 19, 2010, student-staff members of the "First Step" student regional exchange team held a "Hell Tour" of one of Beppu's foremost tourist spots, the Jigoku Hot Spring "Hells", with the aim of encouraging inter-student exchange and introducing the new students to the charms of the local region. "First Step" is associated with the Student Activity Station (SAS) - an organisation to support APU students and their extracurricular activities.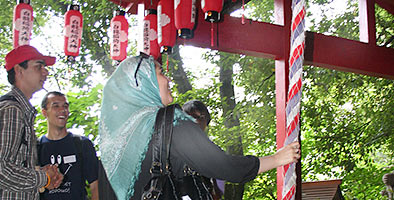 With a clear summer's sky and the hot-spring steam adding to the summer heat, thirty-one international and domestic students toured in pairs around eight of the main "Hell" tourist spots including "Umi Jigoku" (sea hell), "Chinoike Jigoku" (blood-lake hell) and the "Tatsumaki Jigoku" (geyser hell). The tour gave the participants the opportunity to enjoy the characteristic Beppu hot-spring tourist spots including the rich blue and red colors of the "Umi"and "Chinoike" hells, the greys and browns of the "Bozu Jigoku" and "Oniishi Bozu Jigoku" boiling mud pools, and the tropical fish and crocodile enclosures that make use of the thermal heat that the hot-springs provide. The hot-spring boiled eggs and dumplings proved popular with the international students who appeared to enjoy the unique hot-spring cooking while chatting during the break time to the locals and with other participants.

Quarshie Joseph (GSAM2, Ghana), a participant on the tour, gave his impressions, "Participating in this tour gave me the opportunity for me to see Beppu in a different light - as an attractive and bustling tourist centre. It was also a great chance to develop new friendships with fellow participants and learn about their culture. I would definitely like to participate in similar events in the future".

Established in June 2008, the Student Activity Station (SAS) is located in the Student Activities Office on the ground floor of Building A and aims to provide student-focused information and support for extracurricular activities. The SAS currently has five teams: the Administrative Assistant Team, Local Exchange "First Step" Team, Local Exchange Team (HIJI & BEPPU), and the Local Support Coordinator Team. The five teams are currently working on a range of events including community exchange projects and international cultural exchange programs for APU students. The SAS is also preparing events to welcome the September new entrants.
Reporter, Student Press Assistant (SPA): Nagatomo Rie(APS1,Japan)