On Saturday, August 21, 2010, Ambassador Extraordinary and Plenipotentiary of the Kingdom of Thailand to Japan, H.E. Mr. Virasakdi Futrakul, visited APU accompanied by an entourage of officials and met with APU Vice-President HIRATA Junichi who welcomed the Ambassador to the university.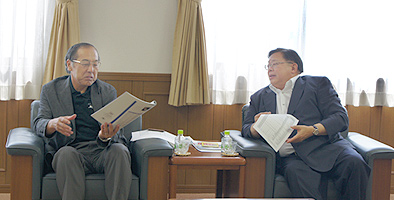 During their meeting, the Ambassador commented on the beautiful surroundings of APU and thanked the University for providing educational opportunities to Thai students. He also thanked APU on behalf of the Thai Government for the full and partial scholarships offered to Thai students.

Also present at the meeting were eight current Thai APU students who introduced themselves, their field of study, future plans and particular interest for studying in Japan. The Ambassador spoke of how mastering the Japanese language at APU would open up vast opportunities in the future thanks to the large number of Japanese workers currently posted in Thailand at the approximately 7000 Japanese companies currently active in Thailand.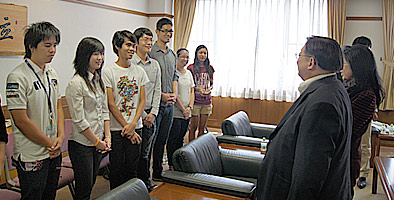 During his time at APU, Ambassador Virasakdi Futrakul agreed to take over from his predecessor and former Ambassador of the Kingdom of Thailand to Japan, Mr. Suvidhya Simaskul, as a member of the APU Advisory Committee*. At the conclusion of the meeting, the two parties exchanged gifts and a group photograph was taken.

The Ambassador and Thai officials also enjoyed a campus tour, including the APU Library and "Wave" Amphitheatre with Vice-President HIRATA and the Thai students. During the tour the Thai students took advantage of this great opportunity to converse with the Ambassador.

*The Advisory Committee
Established before the university opened, the Advisory Committee aims to provide multifaceted support to the University and currently has 326 members (as of March, 1, 2010) including former heads of state from around the world, ambassadors, and leading figures in the Japanese business and economic circles. The Committee continues to make a range of contributions to the development and enrichment of study and research at APU.
Reporter, Student Press Assistant (SPA): Dimithri Dveinda Jayagoda (GSAM 1, Sri Lanka)