From Thursday, August 26, until Saturday, September 4, 2010, forty-nine members of the APU Premier Student Organization "PRENGO" carried out their fourteenth educational and economic volunteer aid trip in the Kingdom of Thailand. Split into two groups, the students carried out volunteer projects in the Mahad Region and at Thapkradaht Elementary School.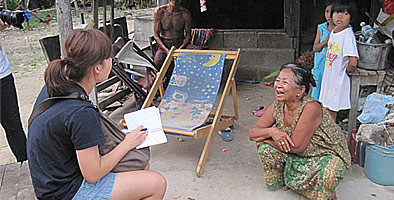 Based in Ban Khao Huai Mahad School, the Mahad group held mathematics classes utilizing the "100-Plot Maths" system, visited foster homes, proposed new product ideas to local members involved in the One Village, One Product movement, and also got involved in opening up new farmland. The students also introduced local children to Japanese culture through a cultural exchange event offering children the opportunity to try on Japanese Yukata and have fun playing the traditional Japanese game "fuku-warai" - a Japanese variant of "pin the tail on the donkey".

The Thapkradaht Elementary School group also offered mathematics classes using the "100-Plot Maths" system and concluded an agreement detailing their future aid activities, achievement goals, and guidelines for their eventual withdrawal from the region. The group also held an exchange event featuring dishes from Oita Prefecture to promote support in the local community.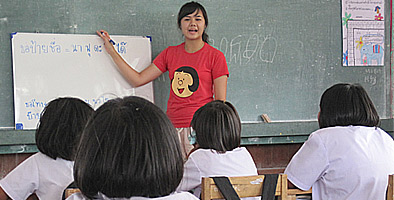 PRENGO representative, TOSHINO Yo (APS2, Japan) commented on the project, "In these uncertain times in Thailand, we were able to carryout our project thanks to the help and understanding of the government, University, parents and our fellow group members. This made me realize once more that our projects are only made possible thanks the enormous support we receive from so many. I hope to continue to search for more ways for us to contribute as a member of the Asian community".

Twice a year (February and September), PRENGO is engaged in volunteer activities in the Kingdom of Thailand under their philosophy of "the locally led creation of more educational opportunities and the improvement of the educational environment". PRENGO continues to work towards a sustained effort led by the local community, the realization of their goals for the region, and ultimately, their withdrawal from the area. After successfully reaching the goals for the region, the PRENGO public health support team held their final trip to the Mahad area in February 2010.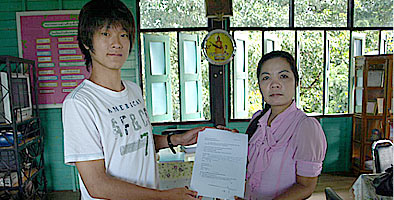 Starting on Monday, October 18, the "PRENGO Volunteer Projects in Thailand Information and Photo Exhibition" is scheduled to be held in the Fukuoka City Ritsumeikan Plaza and will feature information and images of their volunteer activities in Thailand. We look forward to seeing you there!


"PRENGO Volunteer Projects in Thailand Information and Photo Exhibition"
Exhibition dates: October 18 (Mon) - October 29 (Fri) 2010. 11:00 - 19:00
NB: Doors close at 15:00 on the 29th. Closed Mon, Tue, public holidays.
Venue: Ritsumeikan Plaza Fukuoka (IMS Building 8F, Tenjin 1-chome 7-11, Chuo-ku, Fukuoka-shi)
Entry: Free