From Monday, February 7 until Thursday 25, February, 2011, the APU student NGO organisation PRENGO took part in volunteer support activities in the Thapkradaht and Mahad regions of Thailand. Held every year, these volunteer initiatives take place during the inter-semester vacations and aim to provide sustained economic and educational support through working together with the local community. Thirty-five students travelled to Thailand to take part in this, the 15th PRENGO trip, in addition to Thai international students on vacation in Thailand.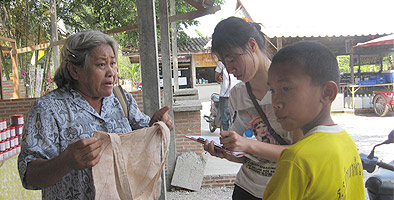 During their time on the program, participants enjoyed a busy schedule which included visiting homes for foster children, providing educational support in the form of teaching assistants at primary schools, and holding overnight camps with 3-6 year students with the aim of ensuring adequate study time and sharing with them the joy of learning and education. The group also helped the children to sell 'eco-bags' currently being manufactured with the help of their parents and guardians as part of their 'One School, One Product' initiative in a similar fashion to the 'One Village, One Product'* also underway.

In addition to educational support initiatives in the Thapkradaht Region, the group also proposed that kabosu, a citrus fruit widely grown in Oita Prefecture (home of APU), be produced as a substitute for limes which are typically expensive in Thailand.




PRENGO representative, ARAMAKI Sayo (APS2, Japan), spoke of the meaning of their initiatives, "Meeting the new and ambitious local teachers made me realize the potential for meaningful educational support to take place. I could also feel the enthusiasm of the people of Thapkradaht had to get involved. This enthusiasm has given me the confidence to believe that they could take the central role in future initiatives. In the future we will continue to suggest even more effective and meaningful support ideas".

Every year since 2003, PRENGO has been organizing educational volunteer programs to Thailand in February and September under the philosophy of "improving the educational environment and creating opportunities for education through community lead initiatives". PRENGO aims to engage in sustained community lead initiatives and, following the achievement of the goals, to ultimately withdraw from the region.

* One Village, One Product is a regional development initiative which began in 1980 throughout all of the municipalities of Oita Prefecture. Advocated in 1979 by the then Governor of Oita Prefecture HIRAMATSU Morihiko, the project attempts to promote regional development and invites each municipality to develop their own special product.