On Friday, March 18, 2011, the March 2011 Graduation Ceremony was held at the B-con Plaza Convention Hall in Beppu City at which 851 students from 38 countries and regions marked the start of their new journey. Approximately 1200 parents, friends and juniors gathered to celebrate the occasion
]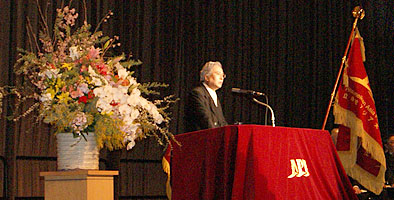 The ceremony began with a minute's silence in recognition of those who lost their lives in the recent Tohoku-Pacific Ocean Earthquake. President KORENAGA Shun then expressed his sympathy to those affected by the disaster before offering a word of congratulation and encouragement to the graduating students, "In a world sometimes chaotic and uncertain, you may come face to face with doubt and you may taste bitter frustration. But I am certain that the flame of those universal truths upon which APU was founded will rekindle within your heart and bring you back on track. Even after you graduate, please keep the spirit of APU in your heart and continue to develop yourself". The President then handed representatives of the undergraduate and graduate students their degree certificates.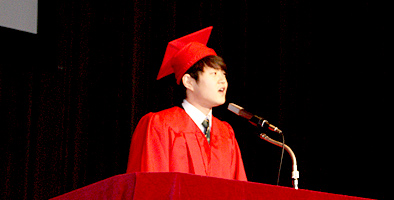 This year's Ando Momofuku Honor Scholarship* recipient, Mr. Lee Hee-Woon (APS, Korea) addressed the audience as representative of the undergraduate school, "APU graduates, who were taught to become world leaders in an intercultural environment, will take an active part in all the places around the world. We give you our word here".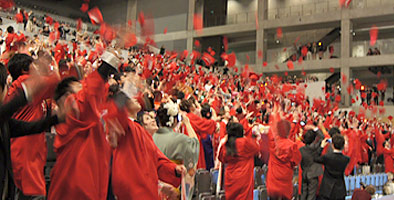 Mr. Anthony T. ODOEMENA (GSAM, Nigeria) gave a few words as representative of the graduate school, "The world out there is in need of people like us; people that will be at the frontline of international cooperation and development. Your respective communities are looking forward to the changes that you will bring and await your positive impact. I wish you great success as you go forth to shape the world".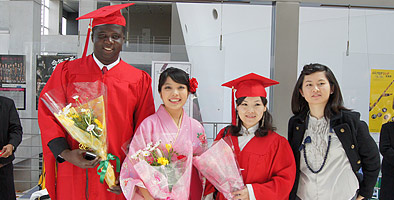 The ceremony concluded with the graduates tossing their caps high into the air of the auditorium, and as they face the beginning of a new chapter in their lives, the graduates leave with fond memories and experiences of APU to pursue further study or career opportunities.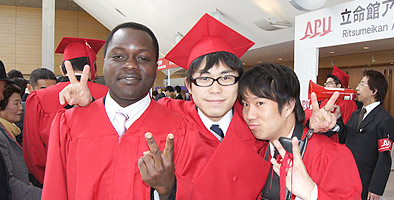 *The ANDO Momofuku Honor Prize
Established through the courtesy of the late Honorary Doctor ANDO Momofuku, the founder of Nissin Food Products Co., Ltd. The scholarship aims to support undergraduate students who are scheduled to graduate and who have a strong desire to contribute to the Asia Pacific Region in their future careers. Each year one to two students are awarded this scholarship.

The graduation ceremony was also broadcast live on the internet via Ustream. Footage can be viewed here.
Ustream Channel: http://www.ustream.tv/channel/apu-week-events-stream