On Tuesday, April, 12, 2011, the President of the Tanaka Food Industry Corporation, TANAKA Mizuhiro, visited APU and met with the Dean of the College of International Business, Professor YOKOYAMA Kenji, and presided over the donation of 200 bags (one ton) of Thai "Jasmine Rice" to the Thai international students studying at APU. Jasmine Rice is one of the products imported by the Tanaka Food Industry Corp.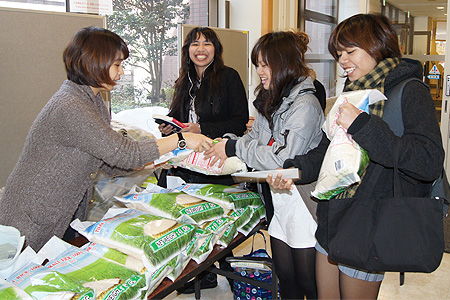 This donation came about after President TANAKA expressed his desire to "support the Thai students with whom we have a strong connection through our business" during a business strategy lecture he attended by Dean YOKOYAMA.

A number of Thai international students also attended the meeting and were handed a bag of rice by President TANAKA. A booth was also set up at the Café where Thai students could receive their rice. One of the recipients said, "I'm so happy to receive this donation of rice, especially rice from my home country". This was an especially kind gesture as it coincided with the Song-Krang traditional Thai New Year's water festival held the following day.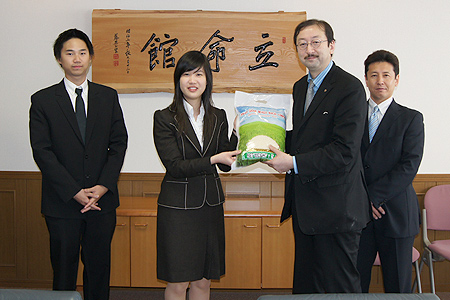 There are currently 196 Thai students studying at APU which is the fourth highest figure for any of the countries and regions represented on campus. APU and the Kingdom of Thailand continue to enjoy a strong relationship including a visit to APU in October last year by a group of teachers from prominent Thai high schools preceded by a visit by the Ambassador Extraordinary and Plenipotentiary of the Kingdom of Thailand to Japan, H.E. Mr. Virasakdi Futraku and his entourage in August.