On Wednesday, April 20, 2011, First Secretary LI Chunsheng of the Education Section at the Embassy of the People's Republic of China in Japan visited APU. During his time here, the First Secretary and his entourage met with APU Vice-President YAMAGAMI Susumu and enjoyed a tour of the campus led by a group of APU Chinese students.
During their discussions, First Secretary LI asked a number of questions about Chinese students studying at APU, their career paths and life on campus. In response, Vice-President YAMAGAMI spoke about how nearly half of all Chinese graduates secure jobs with Japanese companies and also of the 300-400 Japanese companies recruiting students as part of the On-campus Recruiting process.
The First Secretary praised the large number of outstanding Chinese students studying at APU and expressed that it is in the best interests for both countries that APU continue producing outstanding graduates.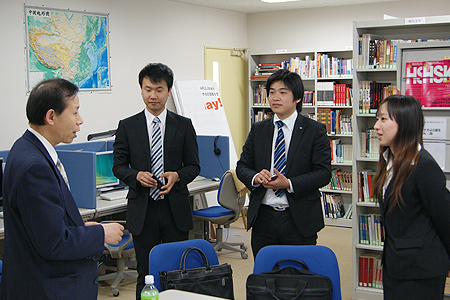 Four Chinese international students also attended the meeting and guided the group on a tour of the campus.
There are currently 867 Chinese students studying at APU (as of November 1, 2010) comprising the largest population of international students on campus. Chinese is also taught at the Center for Language Education as one of the Asia-Pacific languages offered at APU. In addition, the "APU Confucius Institute" has also been established on campus offering opportunities for students and members of the local community to learn more about the Chinese language and culture.