学生生活|連携事業|社会貢献
Apr 28, 2011
From February 14 (Mon) until February 17 (Thu), 2011, APU international students and graduates from four different countries and regions took part a series of international understanding workshops held for the first time in Iida City, Nagano Prefecture – one of APU's partner municipalities.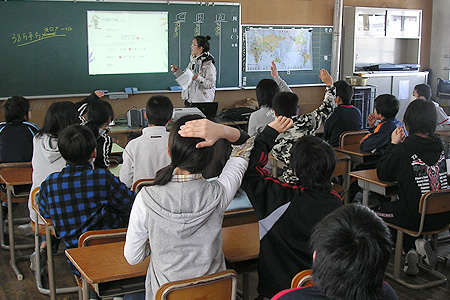 This initiative to promote international understanding among Iida City children came about through a three-way agreement between APU, Iida City and the Iida City Board of Education.

APU students TRAN Thi Tuyet Trinh (APM4, Vietnam), WU Sha-lin (APS4, Taiwan), LI Mengyi (APM3, China), SHI Zhu Fei (APM2, China) took part in this project with APU graduate Daniel Nathan AYRES (GSAM Graduate, fall'10, USA). Mr. AYRES has been working in Iida City as an assistant English language teacher from spring this year. The five members each visited different schools and introduced their country and culture through song and games.

During her visit to Maruyama Elementary School, Ms. WU introduced her native Taiwanese culture through a range of activities including the Taiwanese bamboo dance and dressing her students up in traditional Taiwanese costumes. The classes of all five APU students and graduates proved successful with the school students and teachers alike.

During their stay in Iida City, the APU students and graduates also enjoyed experiencing Japanese culture through home-stays with local students. They also visited local facilities, the town hall, and met with Mayor of Iida City, Mr. MAKINO Mitsuo.

Following the conclusion of a Friendship Agreement between Iida City and APU in July, 2005, many students have taken part in field study and internship opportunities provided by Iida City and the two parties continue to engage in a range of exchange initiatives.