On Wednesday, June 22, 2011, the Ambassador Extraordinary and Plenipotentiary at the Embassy of Japan in the Republic of Malawi, H.E. Fujio SAMUKAWA, visited APU and met with President KORENAGA Shun and Pro-Vice President Edgar PORTER.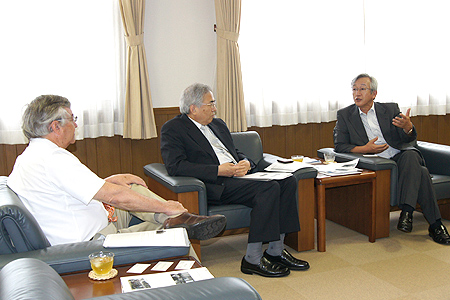 During the discussion, Ambassador SAMUKAWA introduced how the One Village, One Product movement – an initiative that began in Oita Prefecture – is being applied in Malawi. The group also discussed some of the features of APU including the admissions policy for international students that does not require Japanese language proficiency, the English-Japanese dual language system that offers 80% of lectures in both languages, and the career paths of international students following their graduation.

Ambassador SAMUKAWA gave his impressions of the APU education system, "People in Malawi and many African nations see Japan as a high-tech country and as a result, many students are keen to study Japanese technology. However until now the language barrier has prevented them from studying abroad. I have been impressed by the APU dual language system that offers students around the world the opportunity to study in Japan".

At the conclusion of their discussion, President KORENAGA spoke about the recent earthquake and tsunami that struck the Tohoku Region and the resulting situation at the Fukushima Nuclear Power Plant. He also took the opportunity to emphasize that Beppu is unaffected and safe.

Under the commission of the Japan International Cooperation Agency (JICA), APU continues to accept trainees from Africa including Malawi. The University also continues to enjoy a strong relationship with Malawi culminating in a visit to APU by the Malawi Minister of Finance, Hon. Ken E. Kandodo in May 2011, the President of the Republic of Malawi, His Excellency Dr. Bingu Wa MUTHARIKA, and the Malawi Minister of Foreign Affairs, Hon. Joyce BANDA in 2008.