APU is currently home to students from 81 different countries and regions around the world. "Multicultural Weeks" offer students the opportunity to take the central role in planning a week-long event that puts the spotlight on one of the many nations represented on campus, its language and culture.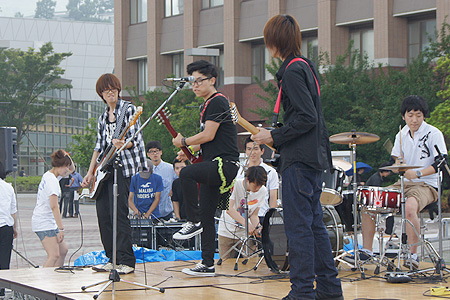 The next installment of the AY2011 Multicultural Weeks, "Korean Week", kicked off on Monday June 27 and will run until Friday July 1. During the week, a number of colourful events will put the spotlight on the unique Korean culture and language.

This year's Korean Week will feature a range of events including the "Korean Wave" outdoor live dance performance of popular K-Pop songs. Event goers will also be able to try on traditional Korean folk costumes and make Korean-style hand mirrors. On Wednesday June 29, Korean students will lead a cooking workshop on how to make kimchi and bibimbap. Korean food will also be available at the Cafeteria at reasonable prices.

Held on the final day of the week, the "Grand Show" will feature a musical arrangement of the popular Korean folk story that has been performed time and again in theatre and films: "Chun-hyang Jeon". The show will feature a range of traditional Korean performing arts including a Taekwondo display, Samulnori, and a traditional fan dance from the island of Jeju-do.

We hope to see you there!

Schedule for Korean Week

Monday, June 27 – Friday, July 1 (10:30-16:00) @ Cafeteria (except Wednesday)
Display of traditional Hanbok costumes (free to try on)
Display of Korean dolls, tourist information, and photos

Monday, June 27. 10:30 – 16:00 @Cafeteria
Korean hand mirror workshop
Enjoy making your very own Korean-style hand-mirror

Monday, June 27. 19:20 – 21:30 @ The "Wave" Amphitheatre
"Korean Wave" Dance Event
Students that made it through the audition stage will be performing a dance and song routine of K-pop songs including Girl's Generation, KARA, SHINee, Big Bang, and more.

Wednesday, June 29. 13:00-15:30 @ APU Cafeteria
Korean Cooking Workshop
Come along and enjoy making Korean kimchi and bibimbap under the guidance of Korean students. This event is open to the public so please be sure to come along!
Registration deadline: Tuesday, June 28. 22:00
Fee: 500yen for ingredients
NB: Please click here for more details

Friday, July 1. 18:30-20:30 (doors open at 18:00) @ Millennium Hall
Korean Week Grand Show
NB: this event will also be streamed live on the internet via Ustream* (18:30-20:30)

Video streaming by Ustream
Participating countries for the Spring Semester 2011 Multicultural Weeks are as follows:
June 6 (Mon) – June 10 (Fri) First installment: Chinese Week (finished)
June 13 (Mon) – June 17 (Fri) Second installment: Vietnamese Week (finished)
June 20 (Mon) – June 24 (Fri) Third installment: Myanmar Week (finished)
June 27 (Mon) – July 1 (Fri) Fourth installment: Korean Week
July 4 (Mon) – July 8 (Fri) Fifth installment: Indonesia Week
July 11 (Mon) – July 15 (Fri) Sixth installment: Thai Week

NB: Footage of the Grand Show (held on the final day of each week) will be streamed live on the internet via Ustream. Please be sure to tune in and enjoy the colourful performances by APU's multilingual and multicultural students. (More information will be available on the broadcast times for each week as the event approaches).

*Ritsumeikan-APU Ustream: http://www.ustream.tv/channel/ritsumeikan-apu