On Friday, September 16, the Fall Graduation Ceremony was held at the B-con Plaza Convention Hall in Beppu City at which 576 students from 44 countries and regions marked the start of their new journey. Approximately 1200 parents, friends and juniors gathered to celebrate the occasion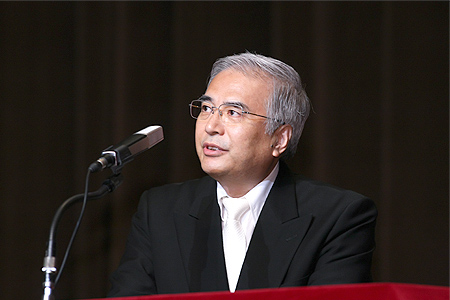 The ceremony began with an opening address from APU President KORENAGA Shun who offered his congratulations and encouragement to the graduating students before presenting representatives from the undergraduate and graduate schools their degrees. "During your time at APU you have all developed outstanding language skills, specialist knowledge, and the spirit of challenge. Life is a challenge. Take pride in the skills you have honed at APU and lead your lives with the can-do spirit".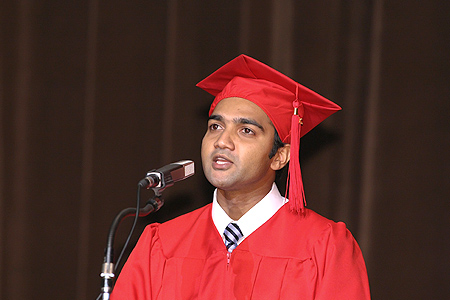 This year's Ando Momofuku Honor Prize* recipient, Mr. Md. Assaduzaman (APM, Bangladesh) addressed the audience as representative of the undergraduate school, "I have learnt a lot from studying alongside so many outstanding students from around the world. Through your influence, I have gained a greater sense of mutual international understanding. At the same time I have become part of a community and network of people from all over the world. I sincerely thank APU and the Ritsumeikan Trust for giving us an equal chance to achieve higher education".

Mr. CHINYAMAKOBVU Taurai (GSAM, Zimbabwe) then addressed the audience as representative of the graduate school, "We have learned the value of discipline; that the greatest rewards come not from instant gratification but from sustained effort and hard work. We have also learned to be open-minded, analytical and inquisitive. This gives us the desire to acquire more knowledge, and when we do, we learn how to be better human beings. Whichever race you choose to run, I challenge you to go out there and run it like nobody has ever run it before".
The ceremony concluded with the graduates tossing their caps high into the air of the auditorium, and as they face the beginning of a new chapter in their lives, the graduates leave with fond memories and experiences of APU to pursue further study or career opportunities.

*The ANDO Momofuku Honor Prize
Established through the courtesy of the late Honorary Doctor ANDO Momofuku, the founder of Nissin Food Products Co., Ltd. The scholarship aims to support undergraduate students who are scheduled to graduate and who have a strong desire to contribute to the Asia Pacific Region in their future careers. Each year one to two students are awarded this scholarship.

The graduation ceremony was also broadcast live on the internet via Ustream. Footage can be viewed here.
Ustream Channel: http://www.ustream.tv/channel/ritsumeikan-apu