The second installment of the Fall Semester 2011 Multicultural Weeks, "Japanese Week", kicked off on Monday December 12 and will run until Friday December 16. During the week, a number of colourful events will put the spotlight on the unique Japanese culture and language.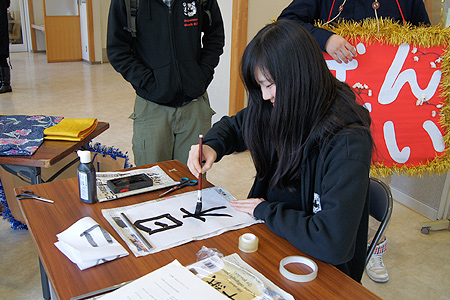 APU is currently home to students from 78 different countries and regions around the world. "Multicultural Weeks" offer students the opportunity to take the central role in planning a week-long event that puts the spotlight on one of the many nations represented on campus, its language and culture.

Featuring a range of events including Japanese calligraphy and Japanese rice cakes, this year's program will focus on Japanese traditional culture and the Tohoku Region as a show of support for the earthquake and tsunami reconstruction process. Event goers will also be able to try on a Japanese yukata and hakama (traditional Japanese costumes).

Held on the final day of the week, the Japanese Week Grand Show will tell the tragic story of the Byakkotai - a legendary troupe of teenager warriors in feudal Japan - through a Japanese calligraphy display, a Japanese tap dancing performance, and much more. The theme for this year's show is "Kizuna" (lit: bonds)
We look forward to seeing you there.
Schedule for Japanese Week

Monday December 12 - Friday 16. 10:30-16:00 @ Cafeteria
Japanese yukata and hakama (free to try on)
Calligraphy workshop

Tuesday, December 13. 14:00-14:15 and 15:50-16:05 @ Cafeteria entrance
Japanese rice cake workshop (display). Free tastings. Spectators are welcome to join in.

Wednesday, December 14. 14:15 onward. @ Cafeteria
Free tastings of "Zenzai" - a sweet Japanese red bean soup (while stocks last)

Wednesday, December 14. 14:00-18:00 @ Gymnasium
Futsal Tournament (APU students only, public viewing ok)

Thursday, December 15 and Friday 16. 14:00 - 14:15 @ in front of fountain (cancelled in the event of rain)
Mini dance performance arranged to songs by AKB48

Friday, December 16. 18:30 - 20:30 (doors open 18:00) @ Millennium Hall
Japanese Week Grand Show

Participating countries for the Fall Semester 2011 Multicultural Weeks are as follows:
NB: this event will also be streamed live on the internet via Ustream* (18:30-20:30)
Dec 5 (Mon) - Dec 9 (Fri) First installment: Sri Lankan Week (finished)
Dec 12 (Mon) - Dec 16 (Fri) Second installment: Japanese Week
Jan 10 (Tue) - Jan 13 (Fri) Third installment: African Week
Jan 16 (Mon) - Jan 20 (Fri), 4th installment: Taiwan Culture Week

NB: Footage of the Grand Show (held on the final day of each week) will be streamed live on the internet via Ustream. Please be sure to tune in and enjoy the colourful performances by APU's multilingual and multicultural students. (More information will be available on the broadcast times for each week as the event approaches).

Ritsumeikan-APU Ustream:

http://www.ustream.tv/channel/ritsumeikan-apu