連携事業|講演・シンポジウム
Dec 22, 2011
On Thursday December 1 and Friday December 2, 2011 APU and S.Rajaratnam School of International Studies (RSIS), Nanyang Technological University(NTU), Singapore jointly held an international academic conference "Engaging the United States:Asia-Pacific Responses."
Many participants from the diplomatic, scholarly and journalism communities attended the conference to discuss issues related to the conference theme from the perspective of countries in the region.

Ambassador Tommy Koh
In the keynote speech, Tommy Koh, Ambassador-at-Large Singapore and APU's Academic Advisor mentioned that the US is a Pacific power, will accord Asia a higher priority than other regions shifting from the West, will increase further economic and military engagement in the region, will use the TPP as the primary vehicle to promote free economic activities in the region, and has elevated the importance of ASEAN, including recent efforts in Myanmar. He also expressed clearly that the US relationship with China is not a hostile one and the two powers could co-exist and that ASEAN and India maintain a neutral stance between the US and China.

Former Vietnamese Ambassador Ton Nu Thi Ninh and Professor Yoichiro Sato
Further to the keynote speech, vigorous discussions on the US commitments to Asia, especially ASEAN, issues around rapid growing China and India and its relations were conducted between experienced and knowledgeable participants.
The delegation from APU, President Korenaga Shun, Pro Vice-President PORTER Edgar A, Vice-President A.Mani, Professor Sato Yoichi, Professor Yoshimatsu Hidetaka, Assistant Professor Ching-Chang Chen took part in the discussions as speakers and panelists.

Japanese Ambassador Yoichi Suzuki
APU looks forward to working with our partners in Singapore and throughout South East Asia.

The other distinguished speakers and panelists are as follows:
Tommy Koh: Ambassador at Large at the Ministry of Foreign Affairs, Singapore
Yoichi Suzuki: Japanese Ambassador to Singapore
Byung-se Yun,: Visiting Professor Sogang University (Former Deputy Minister at the Ministry of Foreign Affairs and Trade, Korea)
Ton Nu Thi Ninh: President of Tri Viet University (Former Vietnam's Ambassador to Belgium, Luxemburg and the European Union)
Sabam P.Siagian: Senior Editor, The Jakarta Post (Former Indonesia's Ambassador to Australia)
David L. Carden: Ambassador, United States Mission to ASEAN
David I. Adelman: United States Ambassador to Singapore
Dr.Rod Lyon: Program Director, Australian Strategic Policy Institute
S.D.Muni: Visiting Senior Researcher, Institute of South Asian Studies, National University of Singapore
Kwa Chong Guan: Head of External Programs RSIS-NTU
Li Mingjiang: Assistant Professor RSIS-NTU
Tan See Seng: Associate Professor, Deputy Director of RSIS-NTU

US Ambassador David I. Adelman
The conference was followed the next day by APU's educational symposium titled "Study in Japan, Work in Asia ~Global HR and Japanese Higher Education~" at Shangri-La Hotel, Singapore. About 140 people including APU alumni, teachers and students from local schools, business persons have showed up to crowd the venue.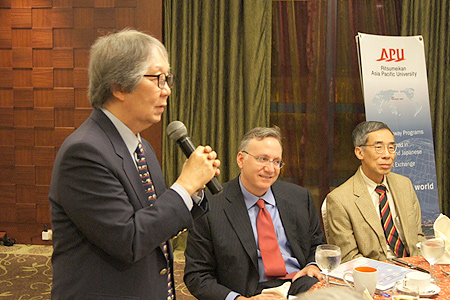 Ambassaor Tommy Koh, Ambassador David I. Adelman, Professor Kwa Chong Guan