On Friday, March 2, 2012, Mr. ZHANG Xi Long, Director of the China National Tourism Administration (Tokyo Office), visited APU and met with APU President KORENAGA Shun and a group of APU Chinese students.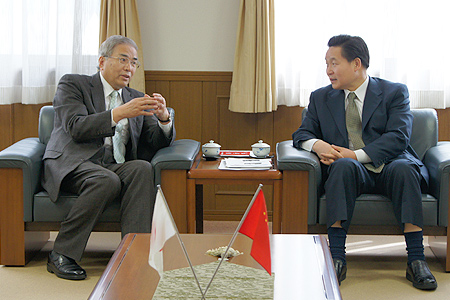 During their discussion, President KORENAGA introduced some of the features of APU including its unique education system and ratio of international students. He also added that: "The differences we have in our views towards history will not disappear in the short term. However, inter-person exchange through tourism can play an important role in changing the way we view each other". In response, Mr. ZHANG said: "We must dedicate many months and years of hard work to building the China-Japan relationship. In China we are actively encouraging students to study abroad and I hope that more Chinese students will study at APU in the future for the benefit of China-Japan relations".

Mr. ZHANG then met with a group of APU Chinese students and spoke about the current situation in China and offered a few words of advice based on his own experience of studying abroad. In response to a question about life, study and employment in Japan, Mr. ZHANG offered a few words of encouragement: "Chinese students studying in Japan play an important role in creating a positive relationship between China and Japan. Furthermore, I feel absolutely certain that the experiences you gain from studying at an international university like APU will greatly benefit your future career".