連携事業|講演・シンポジウム
Mar 8, 2012
On February 15-17, 2012, Director of the APU Asia Pacific Innovation Management Center (AP-IMAC), Professor NAKATA Yukihiko delivered a lecture about the Japanese solar cell industry as an invited speaker at the 2012 PV World Forum held in Seoul, Korea.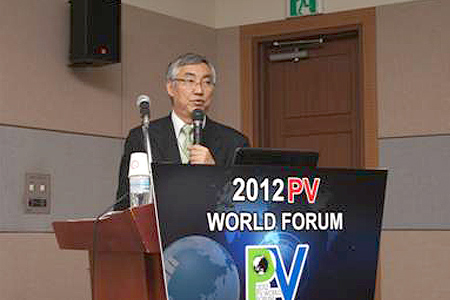 During his speech entitled "The effect of fixed-price purchasing systems on the solar cell industry: prospects for the Japanese market", Professor NAKATA explained about the history, characteristics, and changes in competition within the Japanese solar cell marketplace, and introduced Japan's two solar cell clusters in Kansai and Kyushu. Approximately 6000 people attended the 3-day forum in addition to the 230 companies that held booths at the Expo Solar Korea 2012 held in parallel. As these figures illustrate, there is currently a high level of interest in the Korean solar cell industry.

On Monday, February 13, ahead of the seminar, Professor NAKATA visited The Research Institute for Global Management of Technology for Catching UP (GMOT) at Konkuk University, a collaborative research partner of AP-IMAC, and met with the Program Director, Professor Chaisung Peter Lim. During their discussion, the pair discussed the possibility of comparative analysis of the Japanese and Korean solar cell industries with a view towards joint research through greater collaboration between AP-IMAC and GMOT.
At the introduction of Professor Lim, Professor NAKATA also met with Professor Im of the Konkuk University MAT-Fraunhofer ISE Next Generation Solar Cell Research Center (KFnSC). The group discussed research relating to organic solar cells – an area of technology gaining attention as a potential next-generation energy source – and the possibility of future collaboration between AP-IMAC and KFnSC.
Looking back on his lecture and university visit, Professor NAKATA said: "The seminar and expo gave me a greater idea of the remarkable progress Korea has made in the solar cell industry".

The Asia Pacific Innovation Management Center (AP-IMAC) was established at APU in December 2008 to meet the rising global need for innovation management. Since its establishment, AP-IMAC has built up an international network with research institutes around the globe including Stanford University (USA) and Konkuk University (Korea) and continues to develop into a leader of innovation research in Japan and Asia.