On Friday, September 14, 2012, the APU Fall Graduation Ceremony was held, marking the beginning of a new chapter in the lives of 506 graduates from 41 countries and regions. Held at the Beppu City B-con Plaza, this day of celebration was attended by many parents, friends and well-wishers.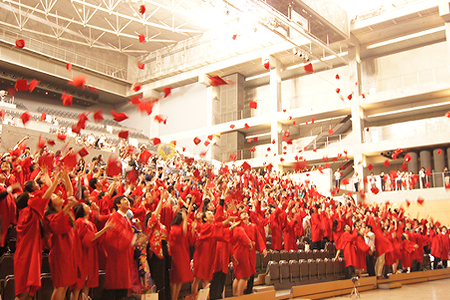 APU President KORENAGA Shun congratulated the graduates before presenting a graduate representative of each College with their degree. "With a mission of 'Freedom, Peace and Humanity', APU was also opened to create the future shape of the Asia Pacific and to promote international mutual understanding. I ask that you hold all of these ideals dear as you create a new future for the Asia Pacific. Go out and lead amazing lives. We pray for your success".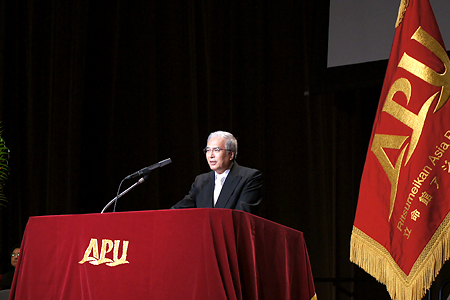 Graduates representing the undergraduate and graduate schools addressed the audience and spoke of their time at APU. Recipient of the ANDO Momofuku Honor Prize, Charitha Lakmali GUNAWARDANA (APM4, Sri Lanka) spoke of her four years of study and extracurricular activities at APU "Four years ago, when I first came to Japan, I was an open minded individual prepared to face challenges and new experiences. APU offered the best study environment, and provided opportunities to allow each and every one of us to shine and excel in our own way".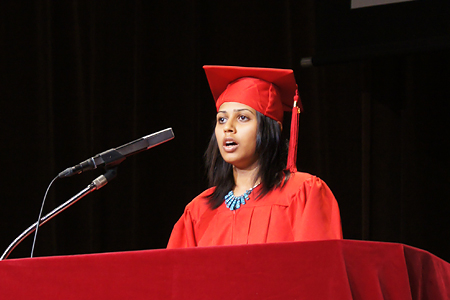 Representing the graduate school, LE An Phuong (GSMM, Vietnam) addressed the audience: "As you head out into the world, let your heart dream big dreams, let your passion for life and for living and for making a difference run free. I wish you success, love and light, joy and laughter. And we are all excited to see what you make of your own destiny."
Bringing the ceremony to a close, the graduates tossed their Ritsumeikan-crimson caps into the air and cheered "We are APU" before heading off towards their new goals and careers.
*The ANDO Momofuku Honor Prize
Established through the courtesy of the late Honorary Doctor ANDO Momofuku, the founder of Nissin Food Products Co., Ltd. The scholarship aims to support undergraduate students who are scheduled to graduate and who have a strong desire to contribute to the Asia Pacific Region in their future careers. Each year one to two students are awarded this scholarship.
The graduation ceremony was also broadcast live on the internet via Ustream. Footage can be viewed here.