On Thursday, September 20, 2012, the Ambassador at the Embassy of the Socialist Republic of Vietnam in Japan, DOAN Xuan Hung visited APU for the 2012 Fall Graduation Ceremony. During his visit, the Ambassador met with the Mayor of Beppu City, HAMADA Hiroshi, APU President KORENAGA Shun and Dean of the College of Asia Pacific Studies PISHVA Davar. The Ambassador was accompanied by the Embassy First Secretary, DO Van Trung.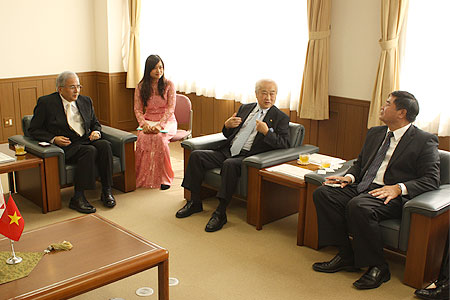 During his meeting with the Mayor and APU President, the Ambassador commented that "APU provides a great educational environment for our students. I hope that more Vietnamese students will come to APU in the future and I thank you for the warm support Beppu City and APU have shown them". In response, Mayor HAMADA said, "I hope that your students enjoy their time here and come to think of Beppu as their home away from home".

President KORENAGA expressed his hope to further increase the number of ASEAN nation students studying at APU and commended the Ambassador on the quality of Vietnamese students – sentiments shared by Dean PISHVA: "Our Vietnamese students are some of the very best students here at APU".

Following the meeting the Ambassador presented President KORENAGA with a piece of Vietnamese artwork before meeting with a group of current Vietnamese students.

APU currently has 242* students from Vietnam, representing the third largest international student body at APU following China and Korea.
*As of September 14, 2012.