On Wednesday, December 12, 2012, as part of its ongoing efforts to become a hub for regional revitalization in the Oita and throughout Kyushu, the APU Asia Pacific Innovation Management Center (AP-IMAC) concluded a research exchange agreement with the Daigin Economic and Management Institute (DKK).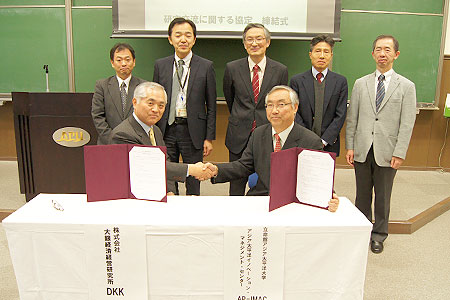 AP-IMAC and DKK have enjoyed a cooperative relationship in the past including DKK representatives participating in AP-IMAC hosted lectures. The current exchange agreement was concluded to build on this relationship and to promote greater cooperation in the future. At the signing ceremony, AP-IMAC Director, Professor NAKATA Yukihiko, and DKK President KUTSUKAKE Masayuki attended the ceremony and were explained the content of the agreement before signing.

This agreement aims to make effective use of DKK's business networks in Oita Prefecture and APU-IMAC's internationally and practically experienced researchers. The two parties will now work together on a range of initiatives including joint research and seminars, the publishing of research results, and regional revitalization projects in the Oita and Kyushu regions. The first initiatives to be undertaken through this agreement include research into 'new energy industry participation and research commercialization' (headed by: AP-IMAC Director, Professor NAKATA Yukihiko) and 'research into the state of Oita industries expanding overseas' (headed by: DKK President KUTSUKAKE Masayuki).

The Asia Pacific Innovation Management Center (AP-IMAC) was established at APU in December 2008 to meet the rising global need for innovation management. Since its establishment, AP-IMAC has built up an international network with research institutes around the globe including Stanford University (USA) and Konkuk University (Korea) and continues to develop into a leader of innovation research in Japan and Asia.
For more details, please see the RCAPS (Ritsumeikan Center for Asia Pacific Studies) website.