APU Language Weeks - Celebrating Cultural Diversity
APU's legendary "Language Week" series will commence with Korean Week on Monday, April 24. The goal of our Language Weeks is to deepen the knowledge of culture and traditions of six Asia Pacific countries whose languages: Chinese, Korean, Malay, Indonesian, Spanish, Thai and Vietnamese are offered at APU.
New students who enter in Spring commence their studies of an Asia Pacific language (AP language) from the Fall Semester. These events assist new students in selecting a language to pursue at APU, and enable them to experience first-hand the multi-cultural environment on campus.
This year various stage events will be held at the Millennium Hall on Fridays throughout the Language Weeks to introduce different cultures and languages. Chinese Week will commence on Monday, May 8 and a stage performance will be held at the APU Millennium Hall. Please refer for program details below:
Date: Friday, May 12
Time: 18:45-20:45
Program
Video - Chinese culture video
First Half - The Tang Dynasty
1.The Goddess of Mercy
2.Endless Love - Theme Song of "The Myth"
3.Mongolian Dance
4.The Chinese Romeo and Juliet
5.Peking Opera
6.Lion Dance
7.Fashion Show
Intermission: Video Clips of Modern Chinese Culture
Second Half - Shanghai Night Lounge
8.Taiwanese Band Performance
9.Ax Dance(from "Kung Fu Hustle")
10.Jazz Dance
11.The Chinese Doll
12.Super Voice
13.Taiwanese Hip-hop Dance
14.Chorus "Tomorrow Will Be Better"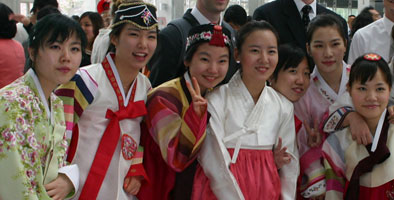 The schedule for Language Weeks is as follows:
April 24–28: Korean Week
May 1–5: Thai Week
May 8–12: Chinese Week
May 15–19: Vietnamese Week
June 5–9: Spain Week
June 12-16: Malaysian/Indonesian Week