To raise funds for the victims of the devastating earthquake that occurred on Java Island on May 27, the APU Club "Ai no Nami" joined forces with several students from Indonesia, and on three separate occasions (May 30, June 3 and June 4) collected donations at APU and on the streets of Beppu City and Oita City. Their efforts resulted in donations collected to the value of 547,579 yen."Ai no Nami" was established to assist nations affected by the Indian Ocean Tsunami disaster on December 26, 2004. Through various forms of fundraising including staging various events and organizing a letter exchange between children from the areas affected by the earthquake and primary school students in Oita; the members have continuously worked to extend their support to the victims.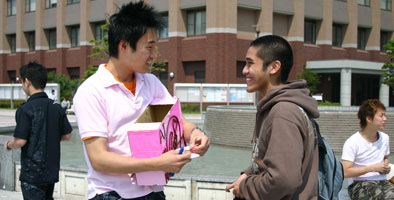 On this occasion, the funds collected were used to purchase essential items for the people of the earthquake-stricken areas including food, medicine and tents. They were personally delivered by the Volunteer Group "APUINA" made up of Indonesian students studying at APU. Thanks to the generosity of many who gave donations, the local people of Indonesia will now be able to start rebuilding for the future.
Herein, "Ai no Nami" and the APU Volunteer group "APUINA" plan to work together to promote regional revitalization. Future efforts will concentrate on the mental care of children who were orphaned by the earthquake and who lost study and play equipment in the disaster.