"2006 Fukuoka Japanese Language Summit", an event which brings youths studying Japanese from all over the world together for the purpose of discussion and exchange, was held in Fukuoka city on July 25, 2006. One APU student, KAUL Nitya Sudha (APM3, India) participated in the event as a panelist.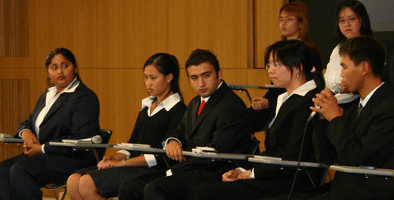 The summit, hosted by the specified nonprofit organization, "Japan Return Program", was held for the 8th time since its inception. Amongst the panelists were 16 youths representing 16 different countries including Mexico, Indonesia and Kyrgyz. APU's very own Ms. KAUL was chosen to represent Japan as a "Nippon Representative Panelist" alongside a Japanese panelist.
At the summit, panelists spoke of their views on peace and how it can be realized, offering comments such as: "It is important to accept differences in order to make peace become a reality", "Education is the key to peace," and "The countries of the world need to cooperate together to solve this problem". Reflecting on her experiences in Japan and India, Ms. KAUL offered the following comment: "Coming to study in Japan made me realize what peace is about. I think that other countries should also have events like this summit."
Host families in Fukuoka and other guests gathered at the farewell party after the summit. APU President, Monte CASSIM had words of encouragement for the panelists. "APU is the mini version of the world, just two hours from Fukuoka. The friendships that you have formed here will last forever and it is my wish that you all do your best to brighten the future".
A prior working session for the 16 panelists was held at APU on July 19. Following APS Professor Ogata's lecture on the tourism policy of Beppu city, the panelists embarked on a walking tour of downtown Beppu accompanied by APU students. Touring Beppu and Oita together proved to be a valuable opportunity for panelists and students to engage in discourse and establish and deepen the ties between them.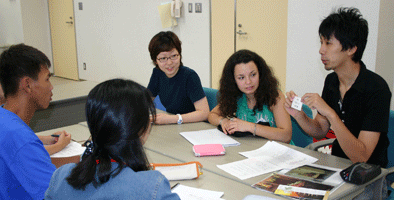 *Footage from the Japanese summit is scheduled to be broadcasted on NHK's "Saturday Forum" on September 23.