This week, APU will host a variety of events including the Asia Pacific Maritime Symposium, a top-executive lecture and RCAPS Conference. Please refer below for details.
November 15 (Wed): Asia Pacific Maritime Symposium
Some tension still exists in Asia today due to differing perceptions of historical, economical and territorial issues. This symposium will expand the notion of time and space in order to examine Asia as part of Eurasia, and will examine various regional and cultural traits from ancient times to the present. In relation to these themes, documentary films on Asia will be shown during the morning session and a panel discussion will take place during the afternoon session.
Audio-visual aids will be widely used throughout the Symposium so that many people including APU students, junior and senior high-school students and the general public can follow the issues linked to the theme "Asia United by Sea – Retracing Cultures, Histories and Exchanges."
The Student Executive Committee comprising of approximately 80 APU students are actively involved with publicity on and off campus and are holding regulars meetings in preparation of the Symposium. They will also be involved with the day-today management of the 2-day Symposium.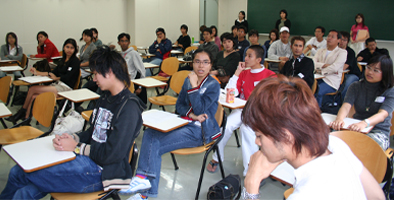 Please click
here
for further information.
The 10th Top Exective Lecture
Date and Time: Thursday, November 16th, 2006. 14:20-15:50
Venue: APU Millennium Hall
Guest Speaker: Mr. Hiroaki Kurokawa, President of Fujitsu Limited
Theme: "Turning Dreams Into Reality -Challenging the Frontiers of Innovation-"
Please click
here
for further information.
2006 Ritsumeikan Asia Pacific Conference "Global Movements in the Asia Pacific"
Dates: November 17-18, 2006
Keynote Speaker: Professor Lee Yuan Tseh, Nobel Laureate in Chemistry(1986)
Mr. Alfonso T. Yuchengco, Former Ambassador, The Republic of the Philippines
Please click
here
for program details.
We hope to welcome many participants to those events.