The 'Japan Future Leaders School' was held at APU from Saturday, August 4th, 2007.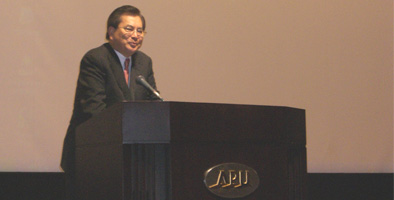 The Japan Future Leaders School is an intensive summer school program tailored for high school students to become active participants within international society. The program held on the 9th day was held at APU.
Mr. Thanong BIDAYA, Former Minister of Finance, Kingdom of Thailand gave a lecture on 'Leadership and the enjoyment of challenges'. In the afternoon, Mr. AKASHI Yasushi, a member of Advisory Committee and Former Under-Secretary-General of The United Nations talked his work on the world stage.
The high school students gathered from all over Japan were exposed to new ideas and ways of thinking through the lectures and exchange activities with international students at APU. They also set a new goal to pursue active roles in the international society.