Amidst tears of gratitude by everyone involved, and thanks to the cooperation of all the cast, dancers and backstage staff, Kizuna was able to close the curtain on a great performance. Approximately 900 people filled the hall, and at the end of the show people were heard to say how moved they were and how much they related to the main characters, receiving courage from their performance.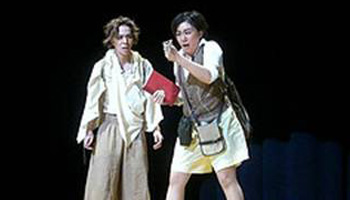 Below is a thank you message from Kizuna
"Over 100 Kizuna members spent approximately three months of preparation and daily practices getting ready for this musical. Right up until the day of the show members practiced daily, encouraging and helping each other out. The leader of the group made the comment that 'Everybody is the star of the show. Everybody is necessary for the show to go on', and this was the case with 'Prelude'. We couldn't have done it without every single member.
Kizuna would like to thank everybody that helped in making the show a success. Thank you to all those that sponsored us, the companies that provided us with financial support, and the APU office staff that worked hard towards helping us make this show a reality. We can't express how much your cooperation and support means, and without it we would not have been able to close the curtain on our third performance.
The questionnaire taken after the performance pointed out a number of areas in which we could improve. We will work hard on these so that we can show the people of Beppu and Oita the art of musical theatre. We hope you will continue to support us and look forward to our future performances."