On the 6th, 12th and 19th November 2007, members of the JDS Monitoring Mission visited APU from China, Kyrgyzstan and the Philippines respectively.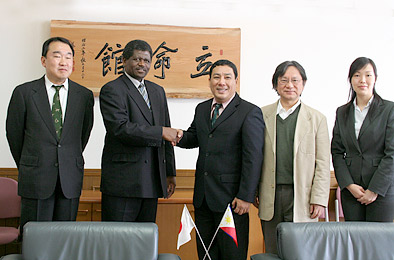 APU, in collaboration with JICA (Japan International Cooperation Agency) and the Japanese Grant Aid for Human Resource Development Scholarship (JDS), is currently accepting talented young public officials and business people to its graduate school as exchange students to help train them to become leaders in 21st century Asia.
With the aim of deepening the mutual understanding of the JDS program, the Monitoring Mission is made up of people from government offices and education departments of the countries where the JDS program is in operation, who visit the accepting university in order to hold discussions and conduct interviews with the university faculty and staff, and with the JDS students themselves.
The visitors of each country gave a high appraisal of APU's curriculum and education, and the students reported on their satisfaction with their studies and living environment at APU.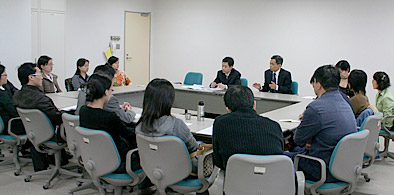 The exchange student from China was highly motivated and said, "In addition to my specialised field, I also want to learn Japanese and Japanese culture, to enable me to understand Japan from a wider perspective. Then when I return to my own country, I want to put this knowledge to good use in my job and also to help deepen Japan-China relations."
Mr TOKTOMATOV Nurmambet, (Director of the Agency of the Kyrgyz Republic on Civil Services Affairs) spoke encouragingly about his high hopes for the exchange student from Kyrgyzstan, ABDYKERIMOV Almaz S., as he will be the first Kyrgyzstan government official to gain a master's degree in Japan.
There are currently 37 students from 8 countries and regions studying here at APU as part of the JDS (Japanese Grant Aid for Human Resource Development Scholarship).