The Exchange Hall at Beppu International House provided the venue for the first Citizens' College lecture of 2008, held on Sunday May 25th on the topic of hot spring tourism. APU Vice-President, Professor Malcolm Cooper, gave a lecture entitled 'The Revitalization of Beppu - A comparison with Rotorua, New Zealand' to an interested audience consisting of both local residents and students.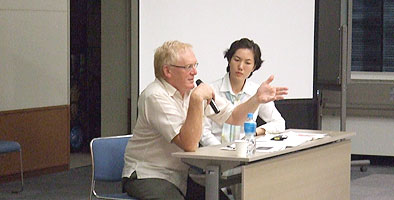 APU is a recipient of funding under the Ministry of Education's "Contemporary Education Needs Initiative Support Program (Contemporary GP)" in the field of "Contributing to Regional Revitalization (Local Areas)". Its project entitled "Educational Systems that Utilize Student Capabilities for Community Contribution" was selected for the GP Award last July. The lecture for local residents detailed here was held as part of that project.
Professor Cooper, a hot spring tourism specialist, introduced several of the tourism-related projects being implemented by Beppu's sister city, Rotorua. He highlighted the fact that both Beppu and Rotorua are similar in their nature as hot spring destinations for tourists, and that Beppu can learn from Rororua's example in many ways, such as its successful collaborative promotion of Maori culture and adventure tourism.
Contemporary GP:
https://www.apu.ac.jp/gp/