Vietnamese week began on Monday, June 23rd as the second round of the Multicultural Weeks 2008.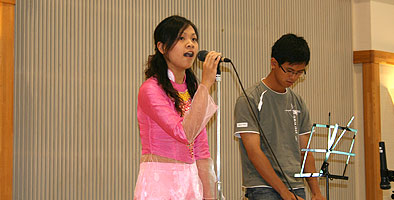 On the first day, the 23rd, a performance event "Mini Show" was held at the APU cafeteria. Traditional Vietnamese dances and music were introduced by Vietnamese students. A student circle "MUSY TONE" sang Vietnamese songs. During the Vietnamese Week, a variety of Vietnamese food will also be offered at the APU Cafeteria. Traditional Vietnamese clothing "ao dai" will be tried on and free Vietnamese coffee and sweets will be offered there. A fashion show of "ao dai" would also take place there.
On Friday the 27th, there is a final performance which introduces Vietnamese traditional dance, music, songs and so on.
215 students whose mother tongue is Vietnamese are currently pursuing their studies at APU. APU signed an agreement of cooperation with Vietnam National University, Ho Chi Minh City and conducts a language immersion program for APU students there every year.
he schedule for Vietnamese Week from June 23 – 27 is as follows:
June 23(Mon)-27(Friday)
Event: Exhibition of traditional Vietnamese cloths "ao dai" and free Vietnamese coffee
Time: 10:00-17:00
Venue: APU Cafeteria
June 23rd (Mon)
Event: Mini Show (Traditional Dance and Music)
Time: 14:00-14:30
Venue: APU Cafeteria
Millennium Hall
June 25th (Wed)
Event: Soccer Tournament Competition
Time: 10:00-17:00
Venue: APU Main Athletic Field